Antilles e-Newsletter for Parents | June 10
JJ Knowles '22 wrapped up senior year with a dynamic recital Thursday night in the PJ Hall. Congratulations, JJ - and to all of the performers and crew. (Photo by Joshua Crawford Barry '22)
Ready for Graduation 2022? So are we!!

While our event is not open to the public, we are excited to bring it to you on Facebook Live! Tune in on our Antilles page or on our website to see the ceremony and celebrate with our graduates.



We are excited to share that we will be partnering with Lands' End for school uniforms next year! Click here for more information and links to the Antilles site - we hope that this partnership will be helpful in allowing families to get all school clothing from one place. Please do not hesitate to reach out to Lucy Serge or Chelsea Goguen if you have any questions.



From the Business Office: 2022-2023 tuition plans will be finalized in FACTS on or before June 20, 2022. Please refer to the Antilles School website for more information.

Summer Camp 2022: We are pleased to offer a COVID-safe program instructed by our own Antilles teachers and associates for the summer. Programming includes fine arts, academics, light athletics and games in order to challenge and keep your child active throughout the summer break! For more information and to register, click here.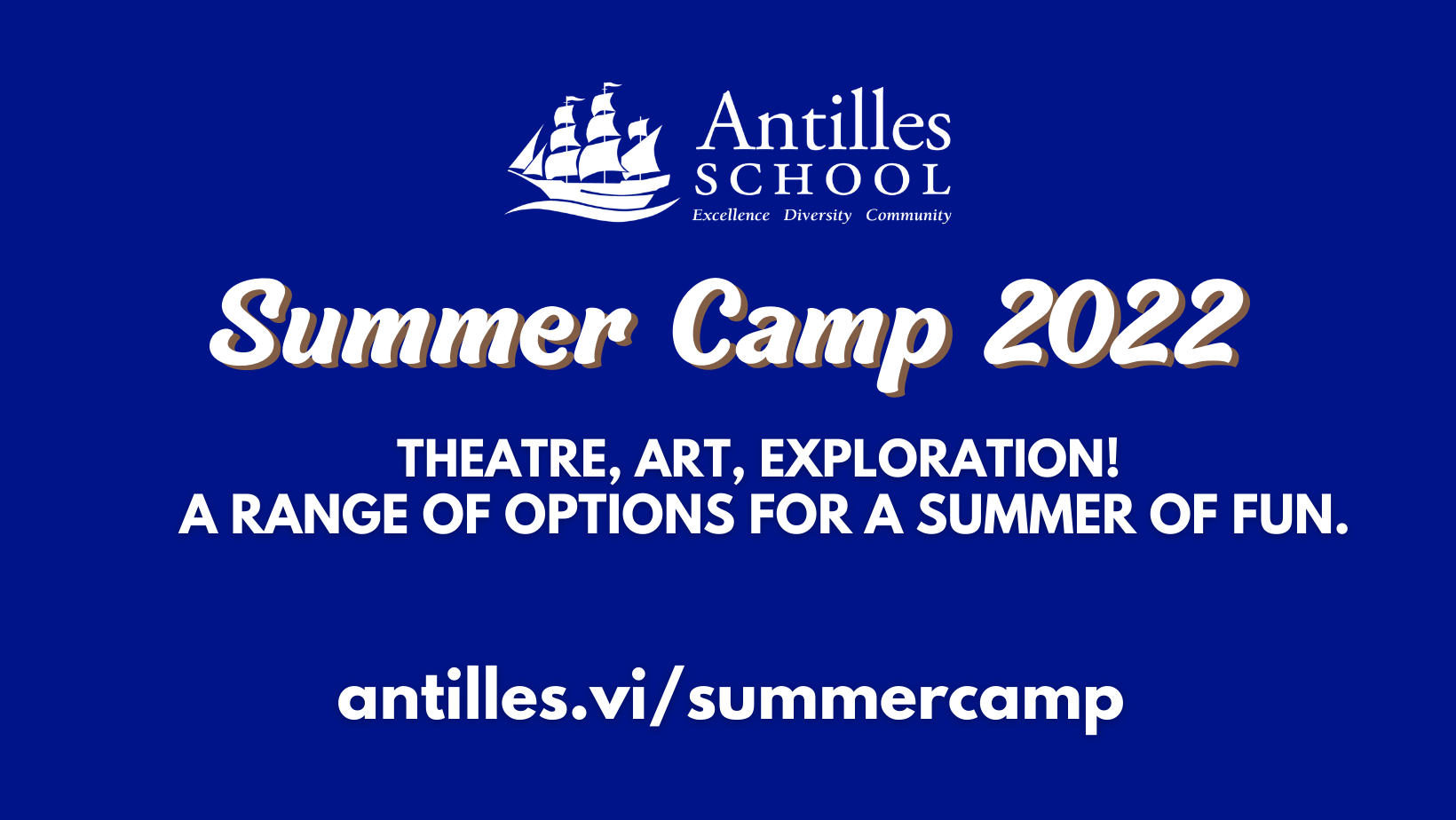 Dear Antilles Community,
The last day of school has arrived! We close out the year with recitals and field days, alumni traditions, and celebrations to honor our students. Little by little, our community has begun to bustle again and I am grateful for the opportunities we have had to come together safely. As we've continued to navigate the pandemic, our students and faculty have often reflected on the need to rebuild our vibrant campus life and school spirit – and I believe we have all been overjoyed to see glimpses of that resurgence in the past few months.
On Saturday, we will also celebrate the academic journey of our Class of 2022. Each of these students has a bright future ahead, attending dynamic colleges and universities, serving our country, and hopefully – one day – returning to make our territory a little better than when they left it. I wish them much success, knowing that they leave Antilles well-prepared for what life has to offer.
In reflecting over the past year, I want to express my gratitude to our faculty and staff for providing this class – and all of our students – with every opportunity to learn and grow, while continuing to enhance our programs with new ideas, renewed energy, and enthusiasm.
Our families have also been valuable partners throughout this experience. From cooperating with us to maintain health protocols, to helping students learn from home, your support and encouragement during these unpredictable times are greatly appreciated. May you now enjoy a summer to reset, re-energize, and relax.
I look forward to welcoming you back in the fall!
In partnership,
Shannon Harris
Head of School
Head of School Shannon Harris recognizes "The Originals" - those students in the Class of 2022 who began attending Antilles in the Toddler Program when Ms. Harris also began working on campus
as the Director of Admission.
The Fifth Grade is Moving Up...
....to Middle School! And this week's Moving Up Ceremony gave us the chance to celebrate the transition while our students shared their favorite memories from Lower School and what they're looking forward to most in sixth grade.
In recognizing the people who have also made an impact during the academic journey - families and friends, among them - students also showed appreciation to the teachers who have cheered them up, tutored them, and offered continued support. While excited about learning new things in Middle School, the class collectively expressed their gratitude for the foundation their Lower School teachers have laid.
"You forget what people did but you never forget how they make you feel," Lower School Director Jean Barrows said in her closing remarks, as she reflected on what the students said. Offering some additional inspiration, Mrs. Barrows spoke about the fifth graders' chance to test some greater independence and personal responsibility in the years ahead.
"You're ready for Middle School," she said. "You really are - and you should be so proud of how much you've accomplished."
Hurray, fifth grade!
End-of-year-internships have helped our seniors - and this year, our juniors as well! - gain real-world experience in their fields of study, or, a better sense of what they might want to explore when they head off to college. Caroline Sibilly '22, for example, said this week that time spent at Canines, Cats, and Critters helped solidify her interest in medicine - and possibly gave her a push toward veterinary science. Sitting in on several surgeries, Caroline shared with her classmates that one of the best parts of the experience was not only being able to see the process first-hand, but to offer comfort to the animals when they needed it.
Meanwhile, juniors TJ Roy '23 and Flame Gonzales '23 spent two weeks with the University of the Virgin Islands' Mangrove Restoration Nursery, which gave them the chance to learn the significance of local mangrove ecosystems and how to preserve them. There are approximately 3,000 young mangroves being cultivated in the nursery, and daily, TJ and Flame were tasked with general monitoring and care.
"Going into this internship, we didn't know how much fun and interesting mangrove restoration actually is," Flame said. "We learned a lot about our environment, how much mangroves make an impact, and how inspiring the people dedicated to preserving these plants are. The experience definitely showed that this process is hard work, but the time and care put into the nursery really does pay off."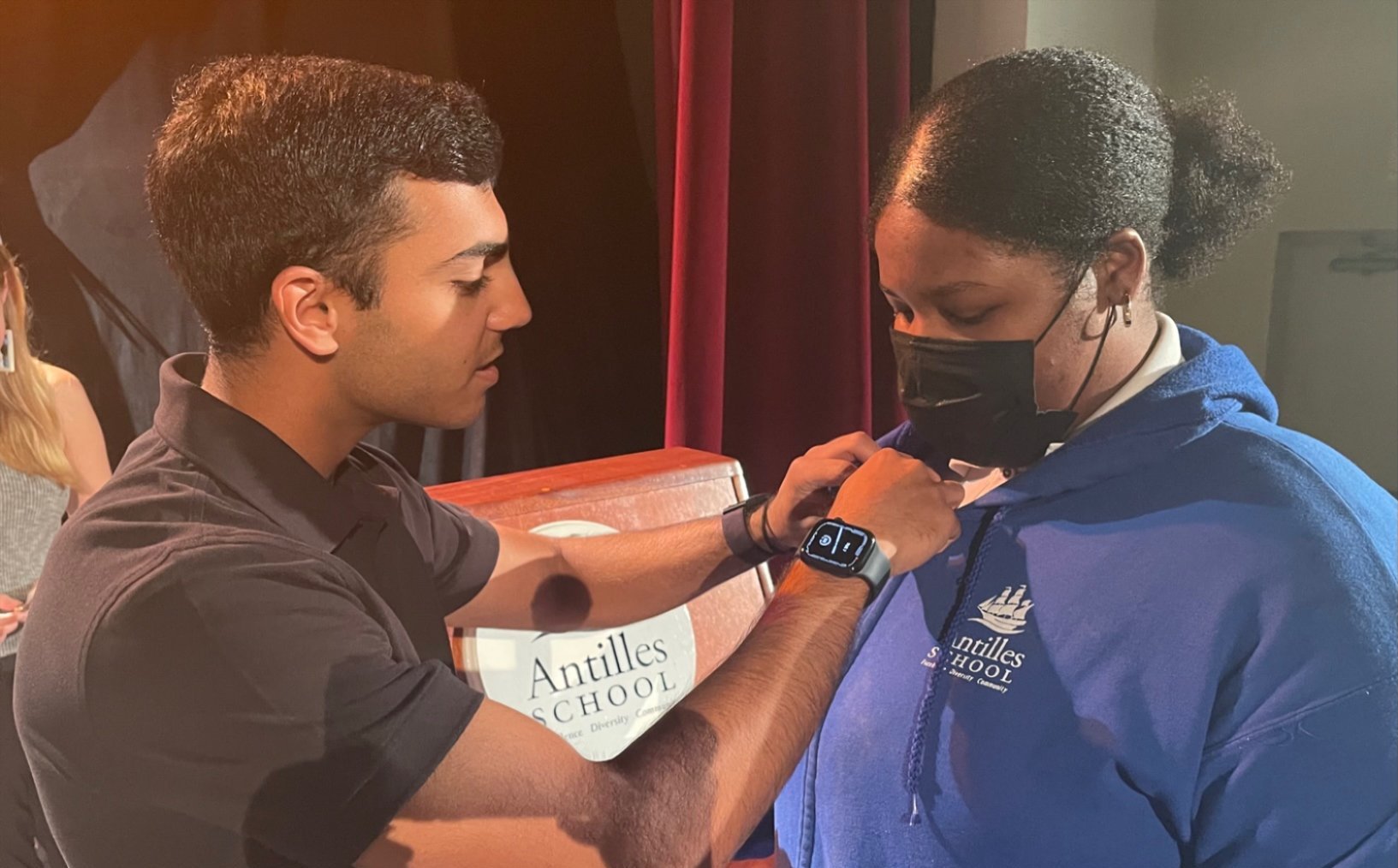 "I think you all know - and if not, you will soon, that Antilles is a unique place. The beauty and openness of the campus, the camaraderie of the teachers and students, the facilities and extra-curriculars, and the island community at large all combine to form a space you won't find anywhere else.
It's a space I have been nostalgic for, for the last 13 years, and I am excited for my son to now be able to take advantage of everything our island has to offer, and the rare experience that my wife and I had at Antilles. And now that my life has come full circle, I want to make sure that you know that the Antilles community is always here to support you. The beauty of the alumni network is that you're able to keep in touch with your friends, teachers, and administrators - just because you're graduating, doesn't mean your Antilles journey is over. It just means you are entering a new chapter of involvement with the school."
Thanks to Liam Klotzbach '09 - who will be coming on board in the fall as our new sixth grade lead teacher - for sharing these words of wisdom with our graduates at this week's Alumni Pinning Ceremony. The event marks the transition of our students to alumni, celebrates their bond as a class, and gives them the chance to share a special moment with alums who can help keep them connected to one another and our School.
We are also grateful to Aparna Nagpal '83, Olga Rosado Neely '89, Erin Salzbrun '05 Azad Daswani '19, Sameer Mohanani '19, Serena Mohanani '19, Trinity Riggle '19, Haley Belcher '21, Joshua Bearden '21, Hobie James '21, Aralisha Harris '21, Mohit Mirpuri '21, Vereen Mirpuri '21, and Rose Whitter '21 for joining us this week as pinners, and on the Alumni Panel to offer their perspective on the college experience.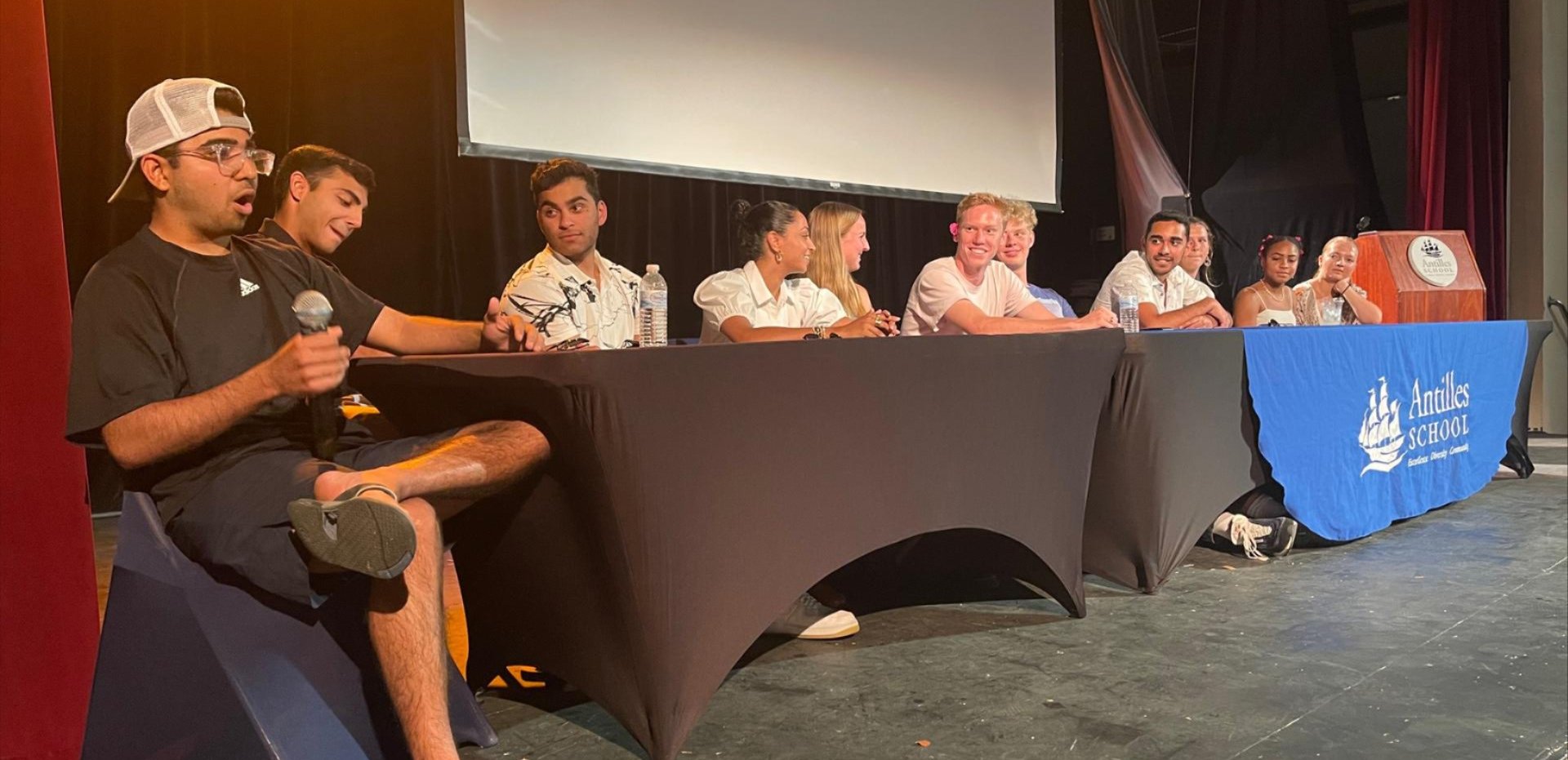 How do we celebrate the end of the school year and beginning of summer? With a field day, of course! Early Learning Center students had fun Wednesday enjoying the sprinklers on the Fishman Family Field while first through fifth grade competed in potato-sack and egg races, took a trip down the slip-and-slide, and hula-hooped. Here are some of our favorite pics!
Next week, our final edition features Graduation 2022, Upper School Closing, Middle School Closing, and some exciting mini-stories! Stay tuned!