Antilles e-Newsletter for Parents | June 14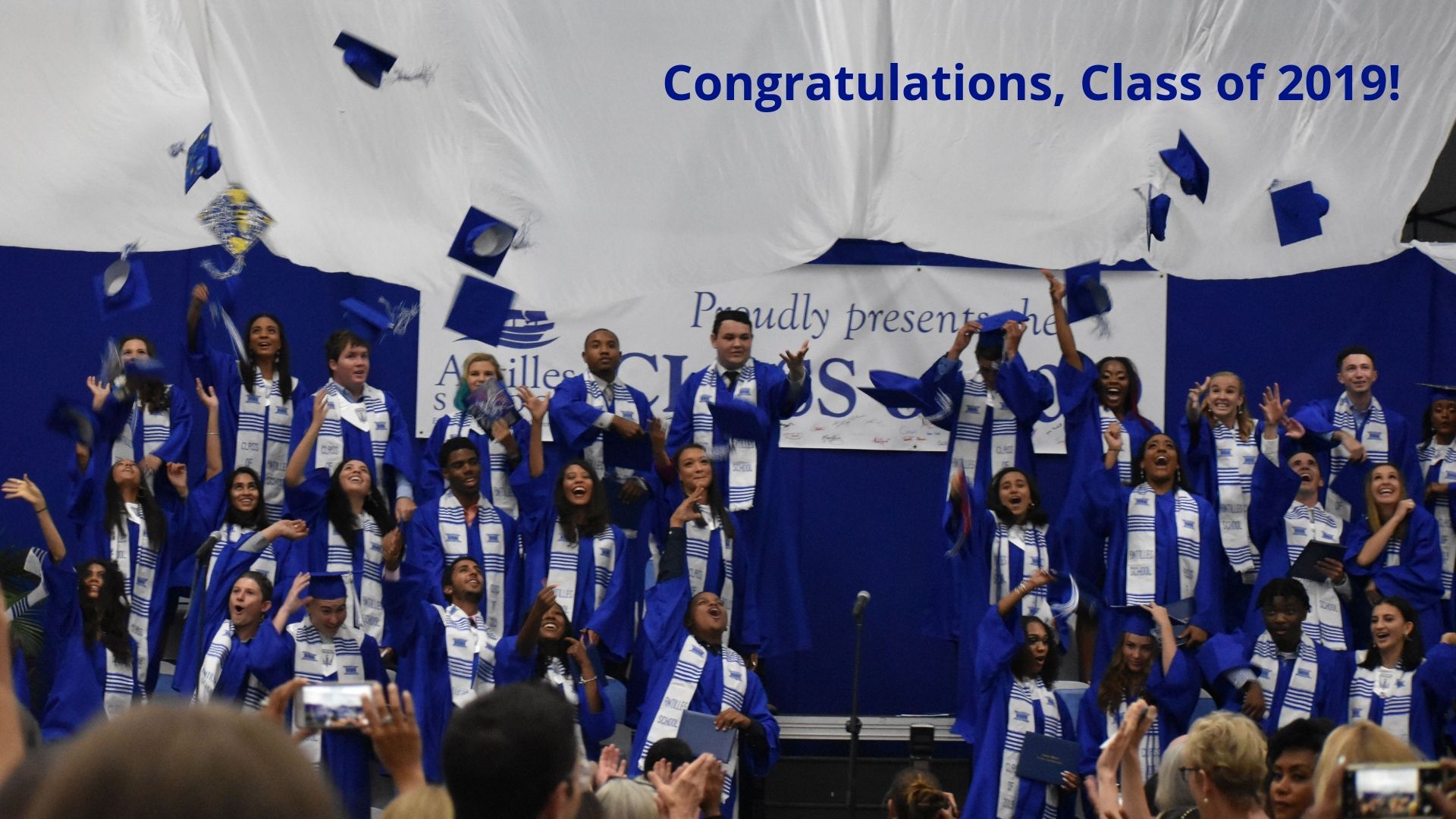 The Last One of 2018-2019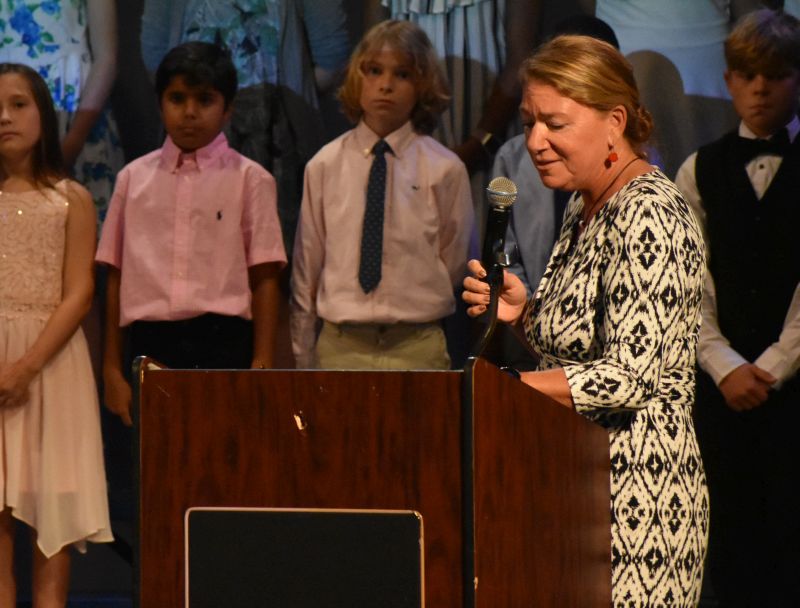 Dear Parents,
As I told our 2019 graduates, the end is really just the beginning, and this is true for all of us at the end of a school year. As we wrap up a terrific school year, pack up rooms for summer work, and put the finishing touches on report cards, we are also simultaneously starting the planning process for next year.
At Commencement, Monesh Mohanani '88, P'19 P'17, our keynote speaker, and I both talked about the profound value of failure (unplanned!), sharing with them an observation that all highly successful people who I have met in my life use when talking about failures as the platform for their success.
As a parent it was easy to be comfortable with my children's struggles, disappointments, and failures when I reminded myself that it is in these moments that one develops confidence, augments their skill set, and acquires the ability to navigate challenges. This does not mean that it is easy to see your child devastated by a poor performance, getting cut by an athletic team, not being recognized with an award, or left out by her peers.
As adults we all know that there are times we do not like the people we work with, feel that we have been treated unfairly or disrespectfully, are left out of a social event, and/or times we were passed over for something we felt we earned. Our job as parents and educators is to help children develop the skills to navigate these situations and to emerge with their sense of self intact. Our job is not to make sure those situations do not occur, for that robs our children from the important learning that is necessary later in life.
So just as I sent off our seniors with words of advice to FAIL and then get up, I wanted to share this advice with you and your children. This summer, lay the groundwork with your child that it is okay to struggle, focusing the conversation on the phrase "not yet," encouraging your child to stick with it and find the joy in the trial and error. Monesh shared the story of Ben Franklin inventing the light bulb. He attempted 1000 times and it was invented on the 1001th attempt. When asked about failing and persevering, he responded that he didn't fail 1000 times, inventing the light bulb just took 1001 steps. That is the mindset we need to instill in our children!
One of the things I love most about being an educator is the opportunity to partner with parents on this wonderful journey of growing a child and launching them into adulthood. Teachers and parents uniting to see the many gift every child possesses and guiding them through the successes and failures and disappointments can be a beautiful thing. It is also the most effective approach to growing a child into an independent, resilient, and flexible child ready to take on the challenges that life will present.
Thanks for a great year and thank you for trusting us with your children. Have a wonderful summer and we look forward to welcoming you back in a couple of months.
All the best,
Liz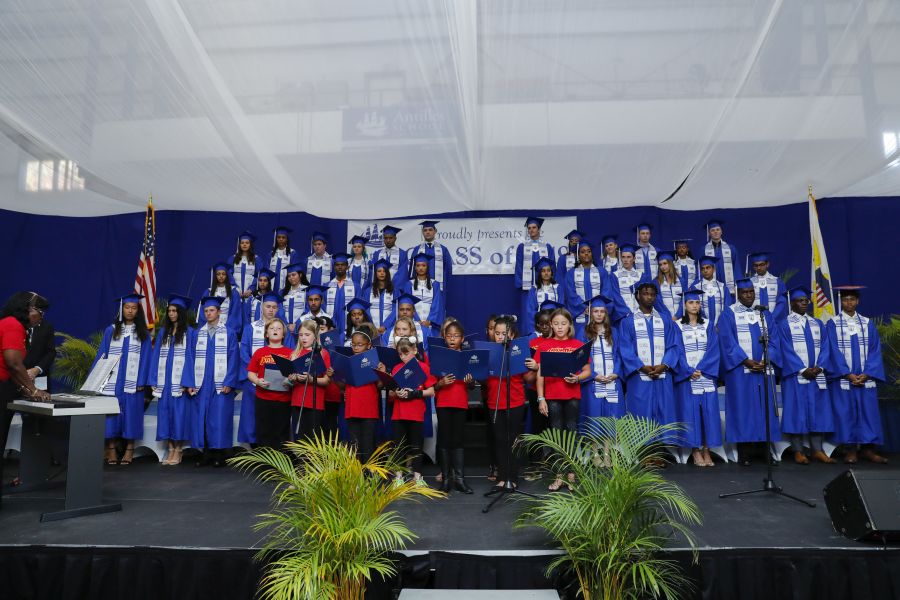 Thanks to keynote speaker Monesh Mohanani '88, P'19 P'17 for sending our Class of 2019 off with these words of wisdom: 
"The next chapter of your life is all in your hands – it's completely what you make of it. On this new journey you will hear words like sacrifice, effort, risk, goals, succeed, network and then, my two favorites, fear and failure. Yes, without failure you cannot become better. When you fail, take the time to understand why and don't fail like that again.
I'm going to compare your education to a toolbox. Your teachers, family, and friends have each put a tool in your toolbox for the last 18 years. Tomorrow, you leave with your full box. Now, here are a few suggestions:
Choose your tools wisely for the task at hand: you might find that you attempted a task with the wrong tool. Go back to the box and start over.

Your professors will give you new tools – accept them gracefully. Upon the acceptance of a new tool, don't be hasty – watch it being used or ask for some help.

There will be bad days – don't give up. Pack up, return the next day, and try again. You might be surprised to find you were unsuccessful the day before because you used the wrong tool.

There may come a time when you have a task, but the tool for it doesn't exist. Here's the chance create it. 
When you were young, you crawled before you walked, and in terms of your academic career, you've been crawling for the past 18 years. Now it is time to walk."
Listen to the full speech here. And, to read more about the night, click here. 
Upper School & Athletic Awards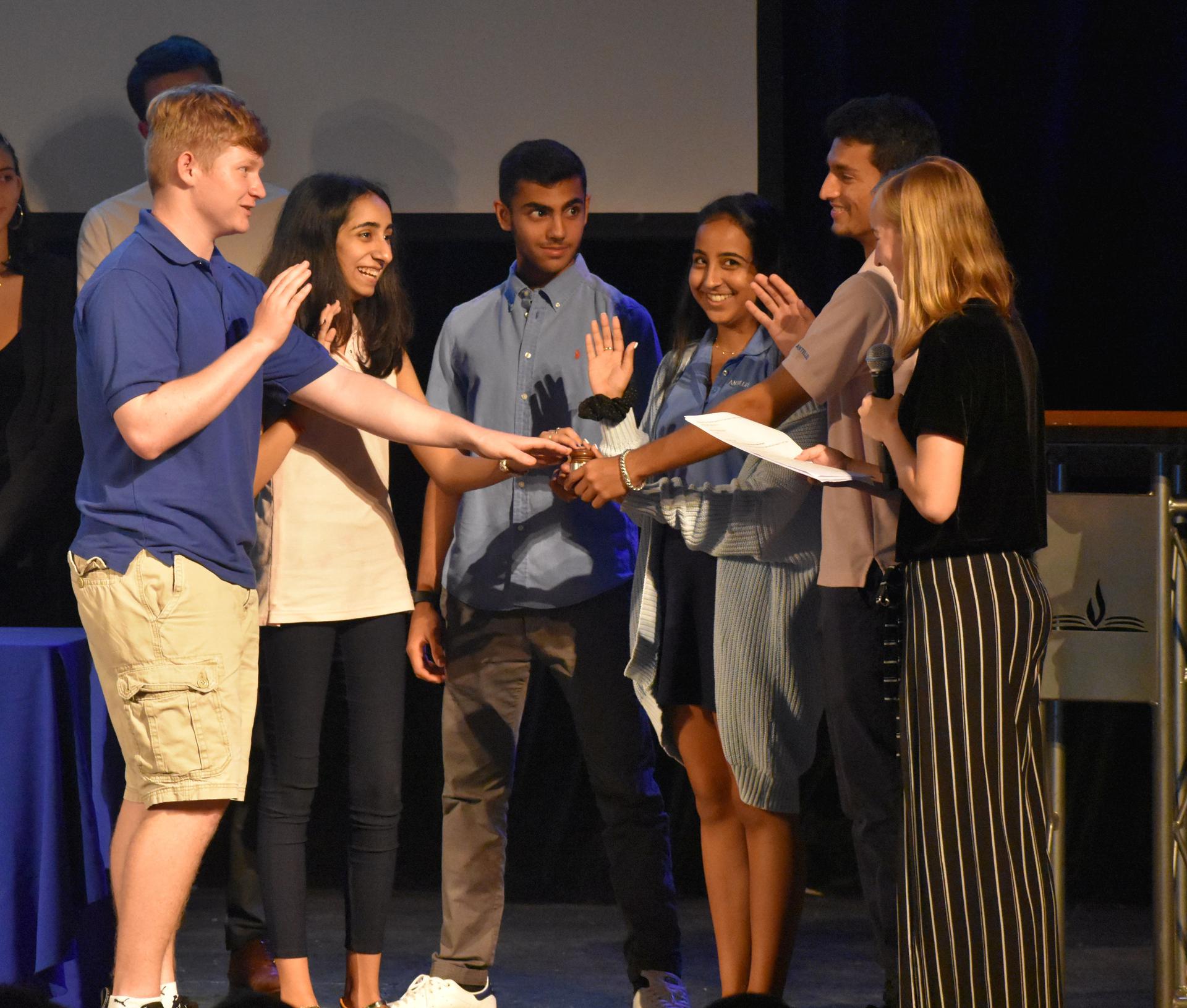 Our traditional awards are not just based on achievements inside the classroom or performance during a game. They honor our core values, the students that best exemplify them, and what they are doing to make Antilles a better place.
Congratulations to all those recognized over the last two weeks for their inspiring leadership, athleticsm, sportsmanship, community service and environmental initiatives, creativity, civic engagement, and overall innovation. (Click here for photos)
A special shout-out also goes to Anika Hahnfeld '19, and Evelyn Woods '19 - the first recipients of the Willie Wilson and Karen Bertrand Endowed Scholarships, which benefit aspiring poets, writers, and artists.
Last week, we also celebrated the official transition in Upper School Student Council leadership. With the passing of the gavel from this year's executive council to next year's, Student Council President Trinity Riggle '19 encouraged our future leaders to make decisions that truly represent all students, to listen, and to care.
"I want you all to branch out and to make friends beyond your grade," she said, turning to an audience of sixth through twelfth graders. "Connect with more people and don't be afraid to make yourself well known. The more people you have to greet, chat with, or even hug, the better."
Adding more words of wisdom, keynote speaker David Tyler also encouraged students - particularly the Class of 2019 - to be adaptable and flexible. 
"Acquire as many varied skills as you possibly can. Take risks, step out of your comfort zone, try a couple of different classes and ideas that you may have not tried before. Who knows – it may be something you have a passion for," he added.
Middle School Celebration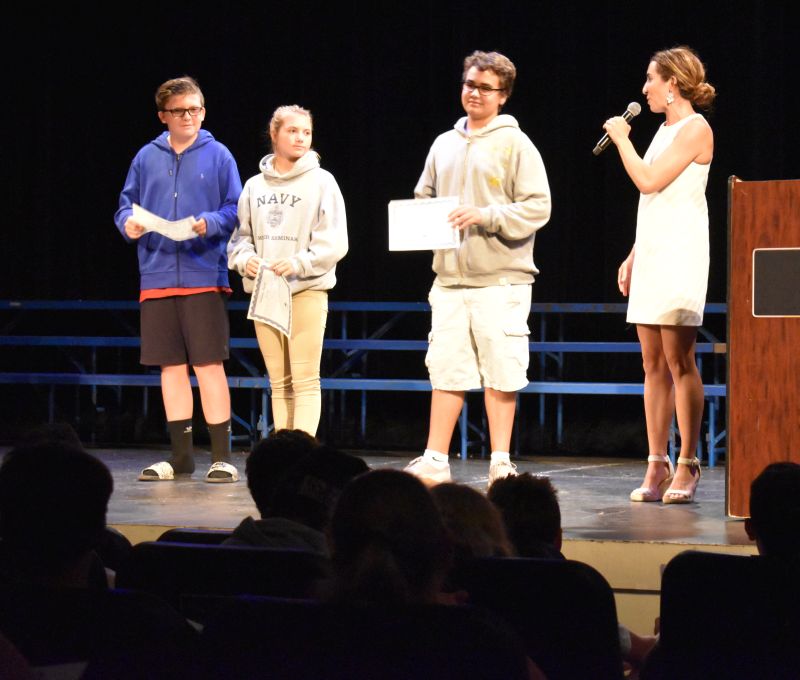 The Middle School's end-of-year celebration gave us a chance to honor those experiences that are truly unique to our sixth, seventh, and eighth graders - like MathCounts, Geography Bee, and bottle rocket building - while also giving us a chance to recognize our students' character, academic achievements, and growth.
The Evolution Award, Fight Apathy Award, and There Is No Planet B Award were also given to students that: experienced significant academic, social, and emotional improvement; demonstrated care and concern for others; and did all that they could to protect our environment.
Congratulations to the recipients of the Character Awards - Alex Bared-Smith '23, Winbourne Majette '23, and Christian Belcher '23 - and to all recognized by our faculty and staff for their outstanding performance inside the classroom, on the athletic courts and field, and in our community.
Summer Inspiration | Changing Habits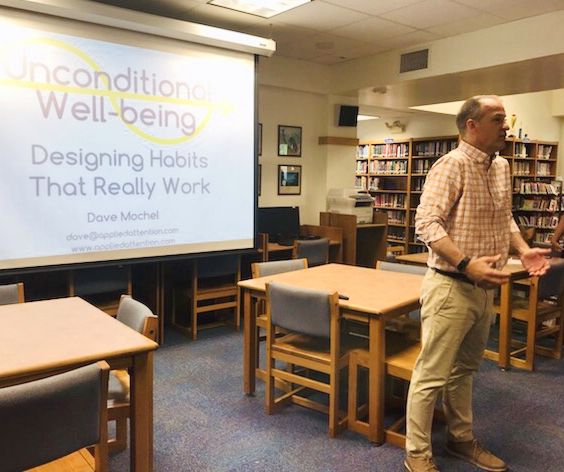 It was wonderful to be able to welcome back mindfulness coach Dave Mochel, who encouraged faculty and staff this week to begin creating new habits that align with what we value most.
To be able to do this, Dave said these skills are most important:
Being able to "be with" - whether you're uncomfortable trying something new, or afraid, being able to identify, process, and accept those feelings will help

Focusing on what matters most to you

Being able to cultivate emotions such as joy, anger, and love

Supporting, reaching out, and being kind to others
"Being in the presence of kindness is good for us," Dave shared. 
Our gratitude to Dave helping us round out the year on an inspirational note, and to Professional Development Director Shannon Harris for giving us the opportunity.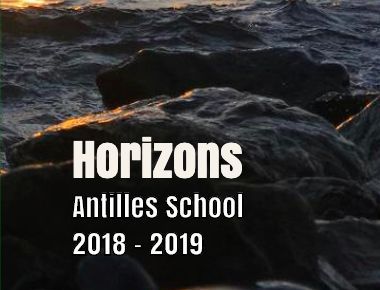 If you're still hoping to get a yearbook, don't worry!
Our hardworking Horizons team is making another order. There are only 55 books available this time around so don't hesitate! Please send your name and the number of books you would like to jhartzell@antilles.vi. 
Books will most likely arrive in July.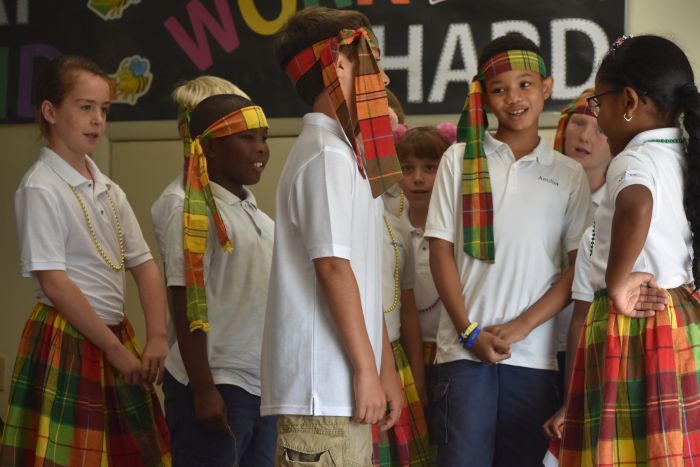 By: Lower School Librarian Carol Wax


The summer months present an extraordinary opportunity for immersion in reading.  Our Lower School faculty emphatically endorse reading for pleasure! Reading aloud to your child is an essential element in creating a reader. Having your child read every day increases vocabulary, spelling, comprehension, and reading ability.
The following websites have great suggestions and book lists. Have fun!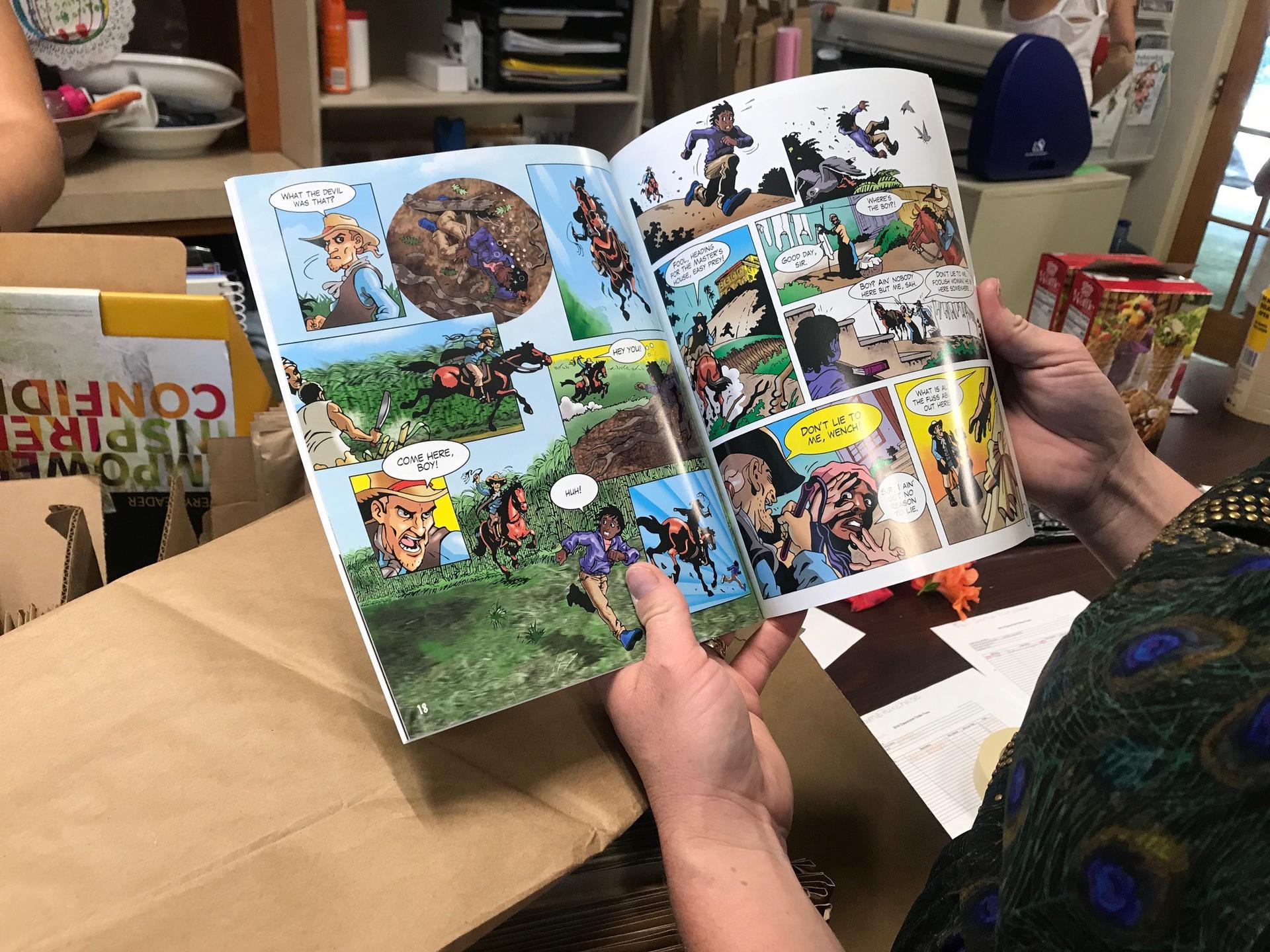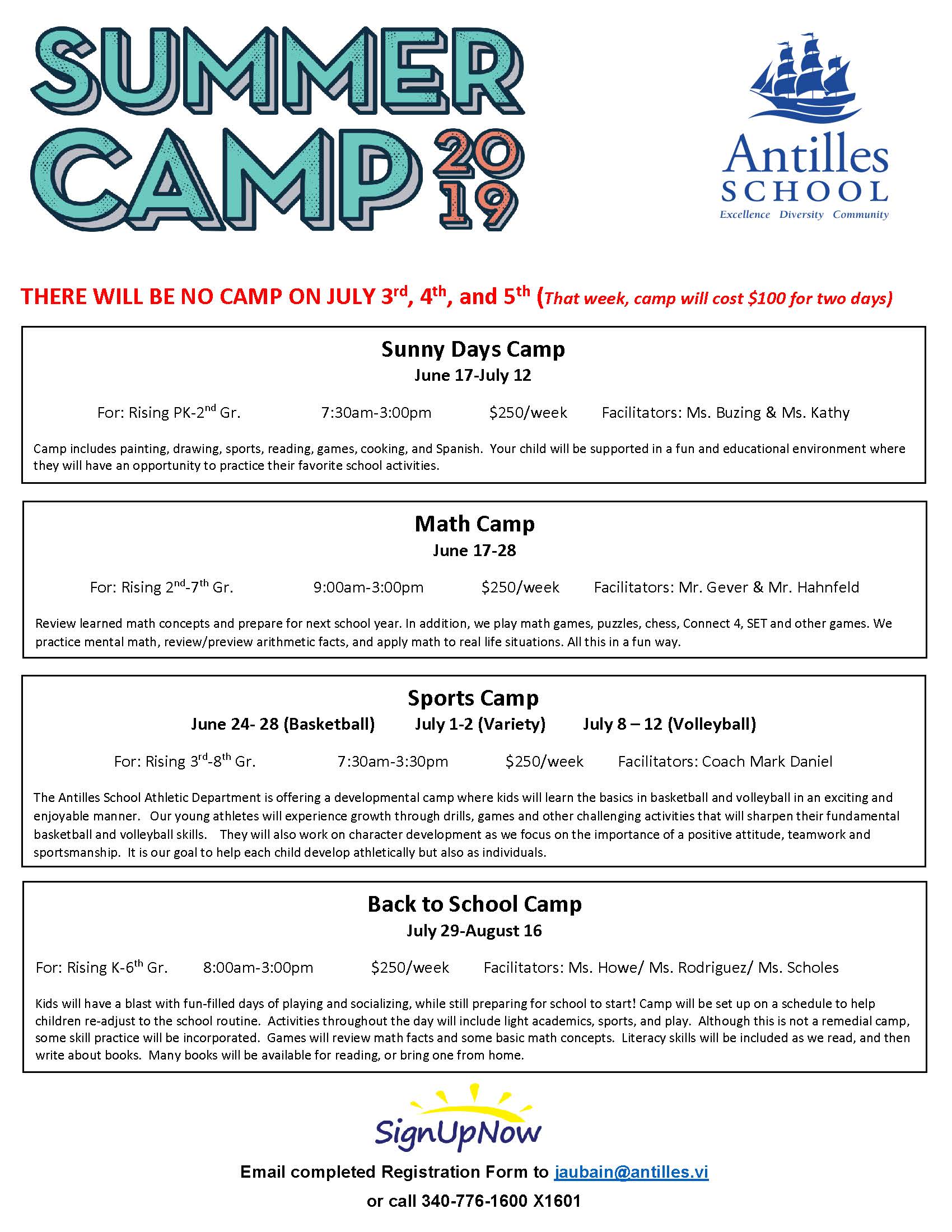 ELC and Lower School report cards were emailed today - check your inboxes! Middle and Upper School report cards will be emailed on Friday, June 21.


The Governor's Summer Reading Challenge books are here! Books are available for students who were in Kindergarten through sixth grade during the 2018-2019 school year and can be picked up in the Lower School teachers' lounge.
Have a wonderful summer!
We look forward to returning in August with more great updates and stories.