Antilles e-Newsletter for Parents | May 10
The Celebrating Teachers, Nurses, & Mothers Edition
Teacher Appreciation Luncheon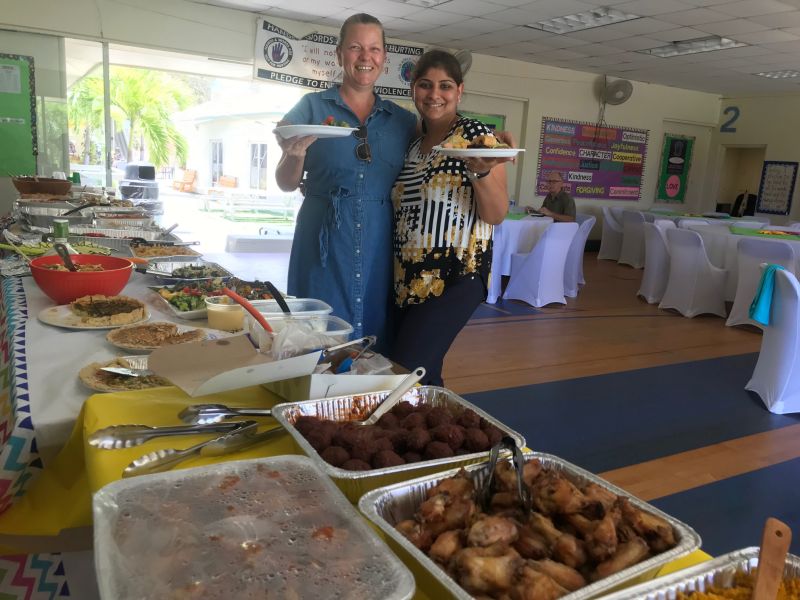 A special thank you to Nina Forvor P'29, P'31 for organizing Friday's Teacher Appreciation Luncheon, and to all the families who donated dishes, along with the members of the Parent Association who set up the event and served.
We loved the delicious feast, sweet desserts, thoughtful decorations - and the handwritten notes from our students.
All of the ways in which our Parent Association help support students and staff throughout the year are truly appreciated!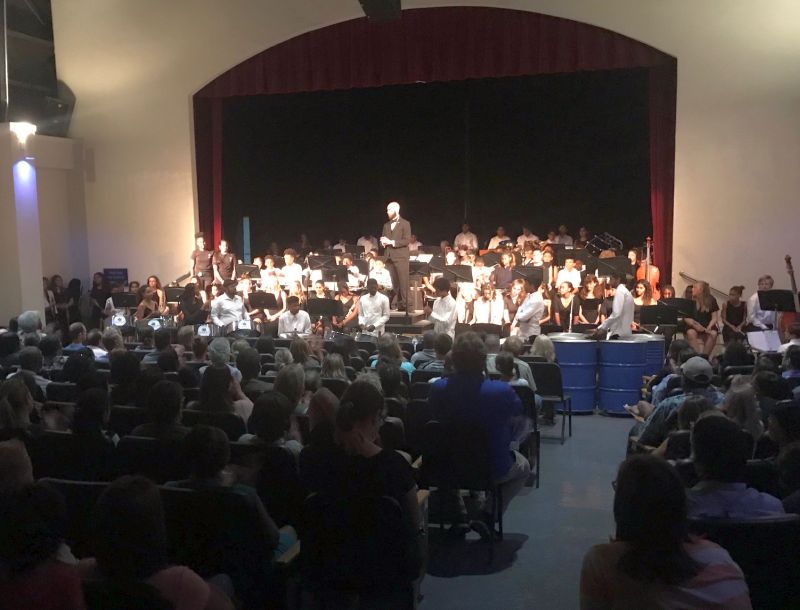 120 band students (+) 30 different instruments (+) 10 months of practicing and working hard = 1 incredible Spring Concert!
We offer our sincere congratulations to our Director of Bands Brandon Reburn and dedicated musicians for Thursday's performance, which gave us the opportunity to experience everything from classical compositions to some definitely dance-worthy Caribbean favorites, which was arranged for the steel pan by our older ensemble students.
Asked after what helped the event fall together, Mr. Reburn credited the personal initiative taken by each student to practice, come for extra help during flex time, and to seek him out on shorter weeks. Eight months ago, thinking about pulling off a concert of this magnitude was daunting, but by the end, the students' enthusiasm and excitement could not be contained, he said.
Look for new growth in the program next year, when Antilles adds a jazz ensemble to compliment four concert bands and a full steel pan orchestra. 
"Our goal is to have students advance not by grade level, but by their skill level," Mr. Reburn said. "And there's no doubt we have the interest, the dedication, and the heart to make that happen. It's exciting to see what this is going to look like next year."
Student Council Collaboration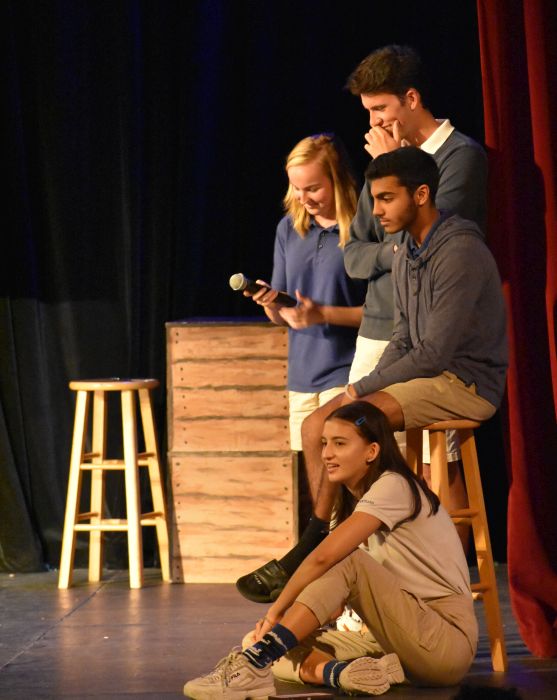 Students vying for Upper School Student Council executive office shared this week their plans for improving communication among peers, making campus more inclusive, and creating more platforms for student expression.


What we're excited to see, however, is how the group works more collaboratively together. Next year, the creation of a leadership team of four executive officers - instead of the traditional president-to-treasurer structure - is intended to level the playing field. Along with the same opportunities for input, each student also has the chance to
 perform, and be responsible for, a wider range of duties, from collecting and raising money to public speaking.


"What I love is that it puts the spotlight on everyone and creates a medium for everyone's voice to be heard in the same way. It's definitely something positive that I'm looking forward to seeing this new group navigate," outgoing Student Council President Trinity Riggle '19 said.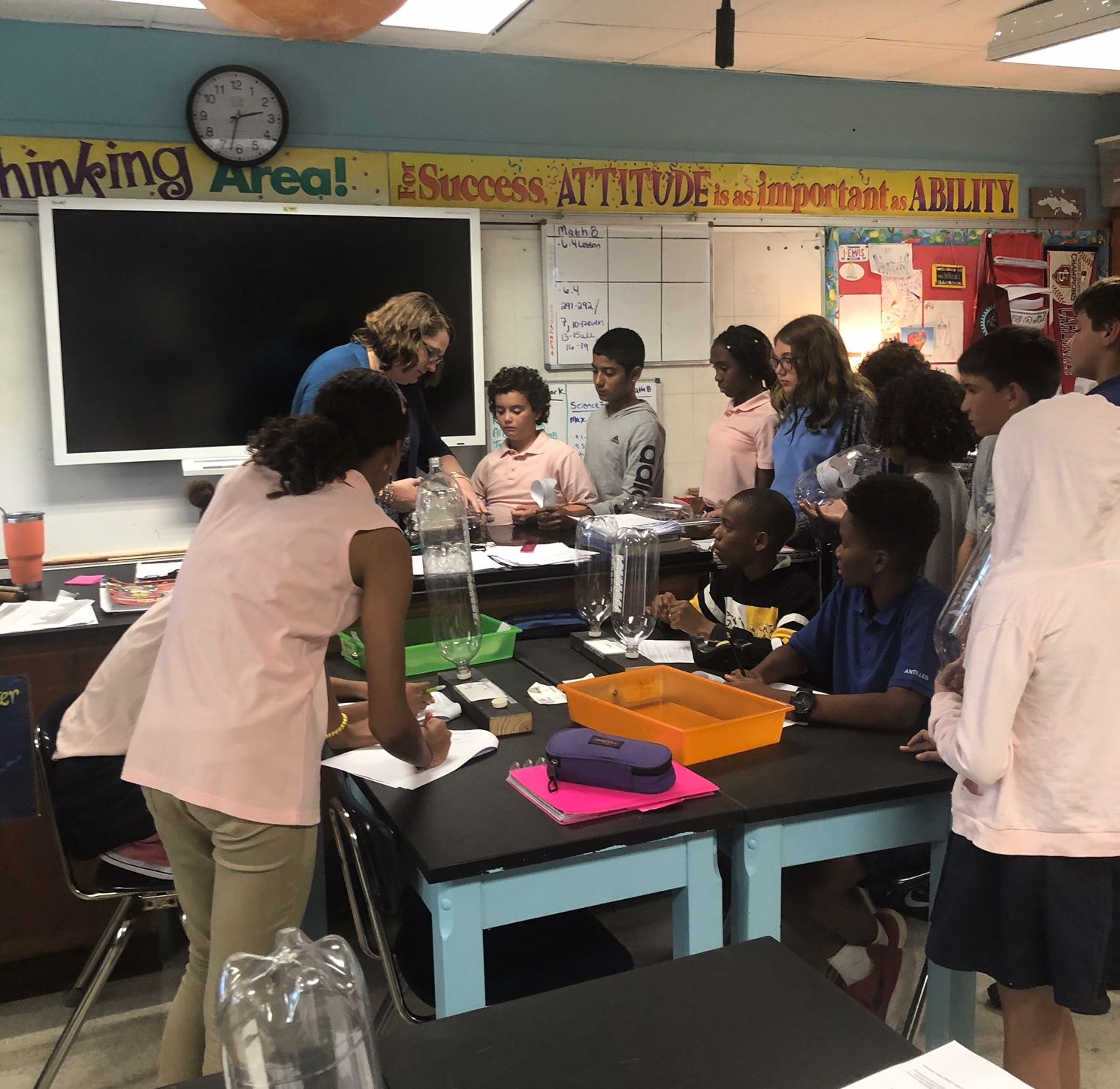 By: Middle School Director Kim Ballowe
The transition from Lower to Middle school can be challenging, as it carries several changes to how students experience school: they have many teachers instead of one teacher for all their core subjects, they move from classroom to classroom, and begin to take more responsibility for themselves and their belongings.
By allowing several touch-points throughout the year for 5th and 6th graders to interact, we hope to bridge the gap and make students excited for this transition instead of anxious. This week also gave our rising 6th graders the chance to explore the Middle School, get used to the physical space, and ask questions.
It was wonderful to see the fifth grade so enthusiastic and to hear them share how much they are looking forward to Middle School - a sentiment I hope stays with them when they arrive back to campus at the end of the summer!
We're looking forward to welcoming them, too.
Parent Participation Challenge | Let's Keep Going!
We are in the middle of our Annual Fund Parent Participation Challenge and Caleb '20 and Viren '20 are excited to show you what your gift will support!
Gifts to the Annual Fund provide resources that have a direct impact on the quality of an Antilles education - and all the avenues for creativity, discovery, and fun on campus that our students look forward to every day. 
And for this challenge, it's not about how much our families give, but how many. Every gift matters, every year.
AN EXCITING UPDATE: thanks to the generosity of one of our families, the first six classes to reach 80 percent parent participation will unlock an additional $1,000. Any class with 90 percent parent participation also receives a party!! Woo-hoo!!! And thank you for your support!
Have you supported the Annual Fund this year? Consider a gift of $25, $50, or $100 today!
Current standings as of Friday afternoon are: 
3rd grade       75%

1st grade        8%

2nd grade      57%

4th grade       52%

Kindergarten  50%

TLC                  50%

5th grade        48%

7th grade        45%

6th grade        43%

PK4                  39%

9th grade        36%

10th grade      36%

PK3                  35%

12th grade      33%

8th grade        29%

11th grade      27%




 
We will continue to provide updates each week on how the challenge is going, and announce the winners at the end of the month. The challenge finishes on Friday, May 24.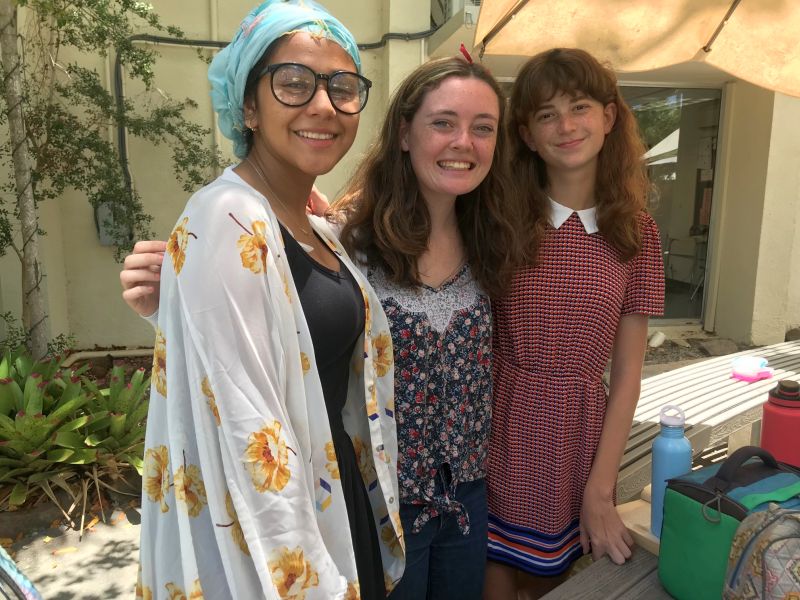 Eesha Ved '21, Maggie Klotzbach '21, and Margaret McConnell '21 dress as their favorite book characters for this week's Dress for a Cause, sponsored by The Eye (our student run school newspaper) in support of Room to Read.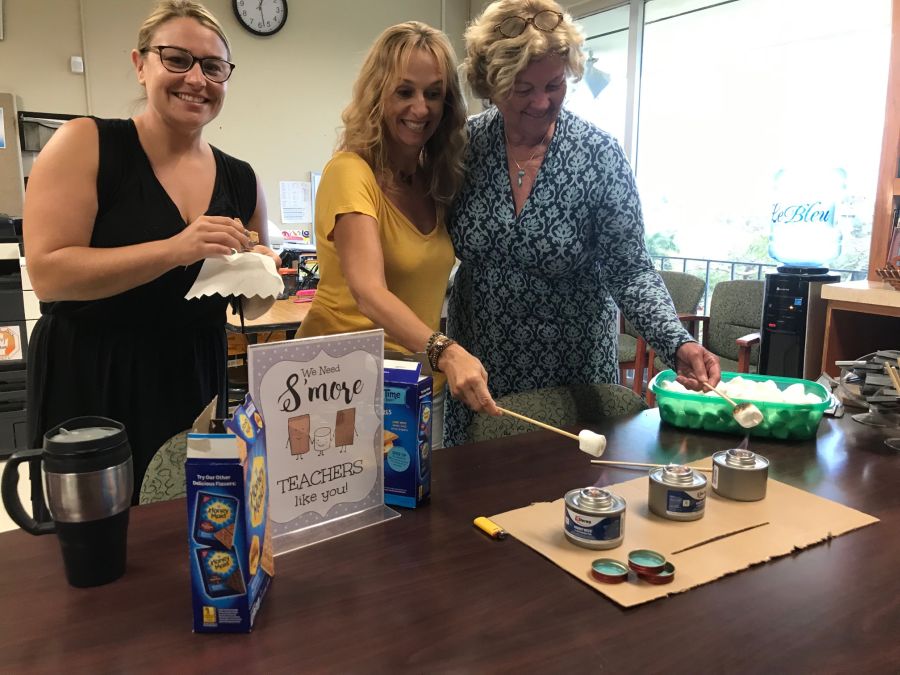 Thanks to Head of School Liz Morrison for surprising faculty and staff with a treat everyday this week in honor of Teacher Appreciation Week! Amanda Smith, Karen Coffelt, and Jean Barrows dig into Wednesday's surprise - s'mores!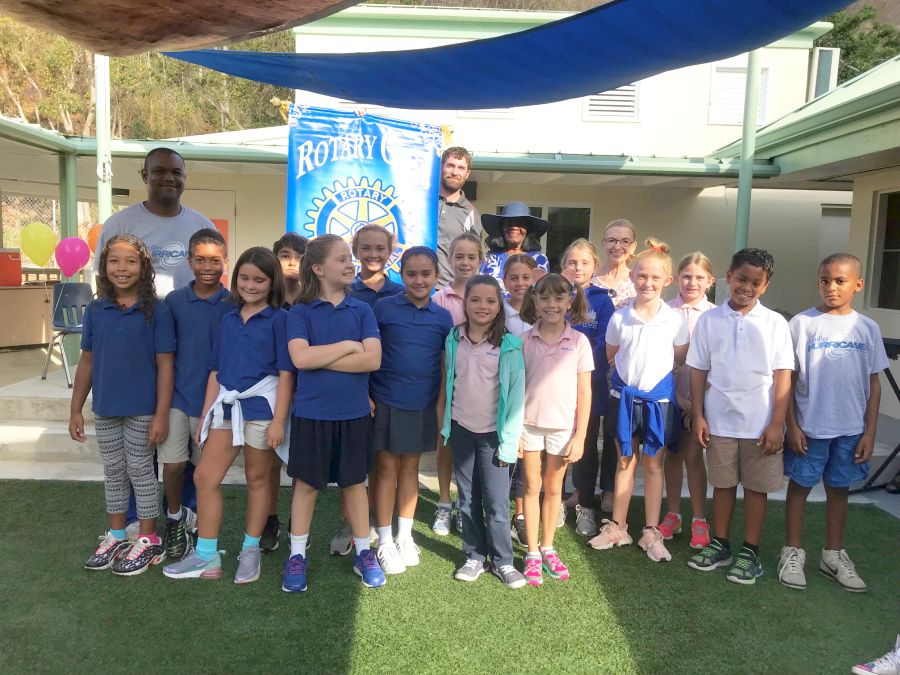 We were excited to have Rotary Club of St. Thomas Sunrise join us for Lower School morning meeting and present a check for $1,000 to the School! Twenty-two students participated in this year's Rotary Kids Triathlon to earn us the prize, which will benefit our athletics program!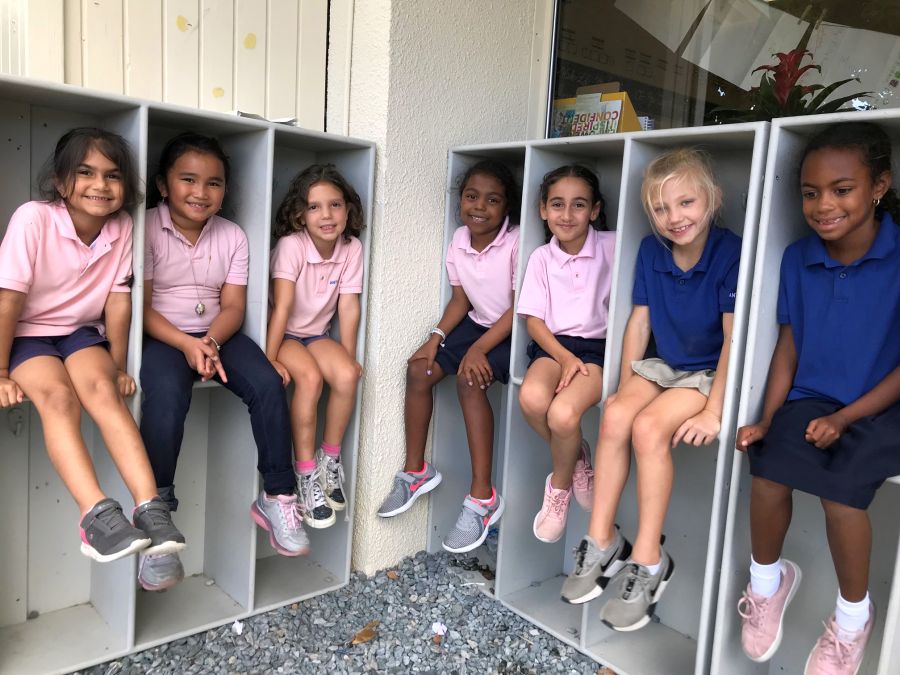 Just hanging around! Javika Israni '30, Elize Acuna '30, Vivien Euwema '30, Sydney Rose Bruzzese '30,  Dareen Yusuf '30, Paytan Lee '30 , and Cynthia Connor '30 catch up with one another before heading off after school on Thursday afternoon.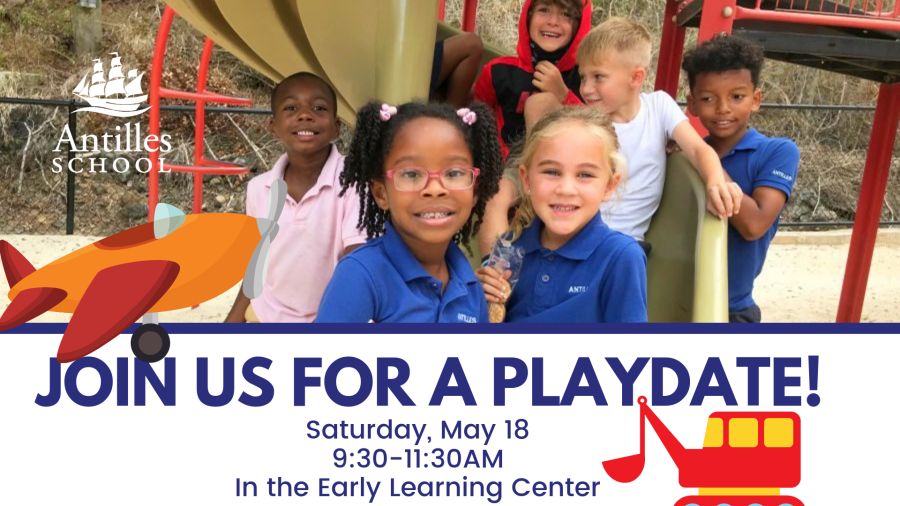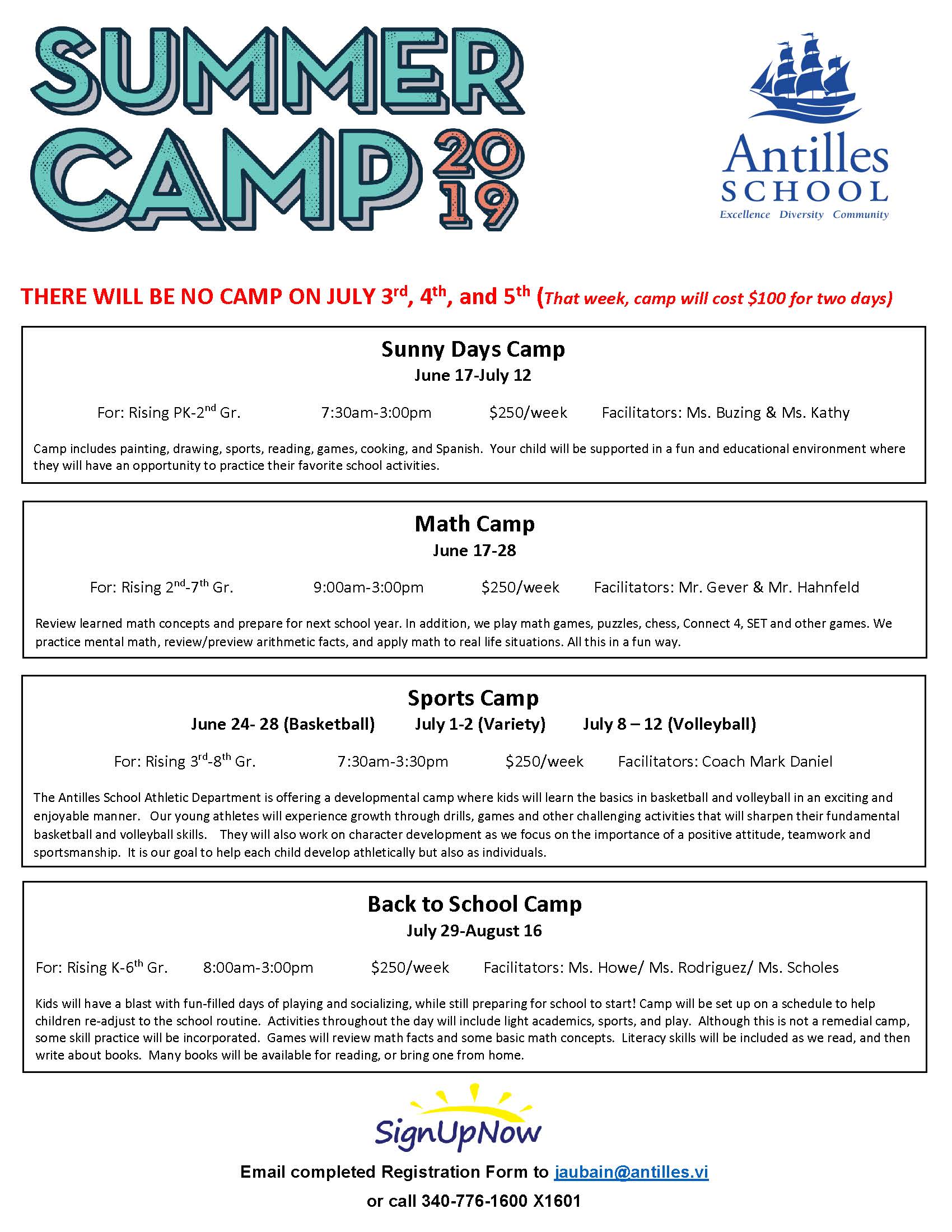 Our Office of Admission is also hosting a playdate on Saturday, May 18 from 9:30-11:30AM for families interested in learning more about our Early Learning Center program. Please help us spread the word by sharing our Facebook event, or forwarding the details on to anyone you think would want to attend!



The Class of 2021 is hosting Bingo Night in the Prior Jollek Hall Courtyard on Wednesday, May 15 from 5:30-7PM. Jump in for 10 exciting rounds of bingo, outdoor games, music, and prizes! Snacks and drinks on sale.



Get ready for summer! Our camp listing is posted online -  browse our full roster of options, then return the registration forms to Jamie Aubain in the Front Office. Jamie can be reached at x1601 or by email if you have any questions!


Yearbook news! Our hard-working Horizons team is now taking orders for the 2019 yearbook! Order forms are now online on our website - please submit your forms with payment to Jamie Aubain in the Main Office or Don Hancock in the Business Office. Yearbooks are scheduled to arrive in June, and can be picked up in the Main Office. 



It's never too early to plan ahead! Partners 4 Kids is making available early bird spots for Antilles families - book an appointment for your child's physical today and bypass the line, or waiting times. Check our their flyer, or call their office for more information at (340) 774-5437.
Get Involved | antilles.vi/calendar
Saturday, May 11

Elementary soccer v. Montessori | 4PM @Montessori


Sunday, May 12
Monday, May 13 (MS/US Day 5)
JV soccer v. BCB | 4PM @Antilles

JV softball v. BCB | 4PM @McBean

Varsity softball v. Kean | 5:15PM @McBean

Cub Scout meeting | 5:30PM @LS Auditorium
Tuesday, May 14 (MS/US Day 6)
After School Activities Dance Recital | 3PM @PJ Hall

Elementary soccer v. All Saints | 5PM @UVI

Girl Scouts meeting | 5:30PM @LS Auditorium

 
Wednesday, May 15 (MS/US Day 1)
Thursday, May 16 (MS/US Day 2)
JV softball v. Cancryn | 4:15PM @Griffith

Varsity girls softball v. CAHS | 5PM @Griffith
Friday, May 17 (MS/US Day 3)
JV soccer v. BCB | 4PM @Antilles

Varsity soccer v. Elmore Stout (Tortola) | 5:15PM @Antilles

Dancing Classrooms VI Closing Reception | 5:30PM 

@

VI Council on the Arts