Antilles e-Newsletter for Parents | December 7
The Real Miracle of Hanukkah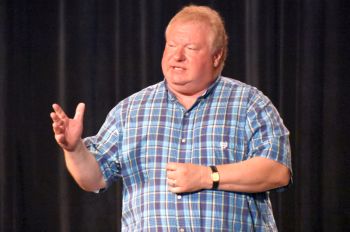 The real miracle of Hanukkah isn't about the oil that lasted for eight days, it's about the resiliency of the Jewish people and the determination of one community to survive, Rabbi Michael Feshbach said Friday.
"Of all the cultures that came into contact with the ancient Greeks as they sought to expand their empire, it was only the Macabees who were able to maintain their own identity," Rabbi Feshbach shared while speaking to Middle and Upper School students this morning about the evolution of the holiday.
"And they were able to do that by being open to change - they let in new ways, but they were Jewish first. That strength, that sense of self - that power is the real miracle," he said.
Heading to the Championships - TODAY!
Celebrating a 15-6 win earlier this week over All Saints that put them in the elementary basketball playoffs, our youngest Lady Canes faced tough competition Thursday against Ulla F. Muller Elementary - but rallied from behind to earn a spot in Friday's championship game.
Going in to the fourth quarter Thursday, our youngest Lady Canes were down 4-6, but a tight defense mounted by Abigail Bruney '25, Isabel Hahnfeld '25, Addie Sutfin '25, C'Orna Greene '25, and Christina Francois '25 forced multiple turnovers that offered them the opportunity to not only overcome the deficit, but hold on for an 8-6 win. 
Our team hits the court at Winston Raymo Recreational Center at 4:30PM today against Lockhart Elementary! We'll be there to cheer them on - and will keep you posted on what happens.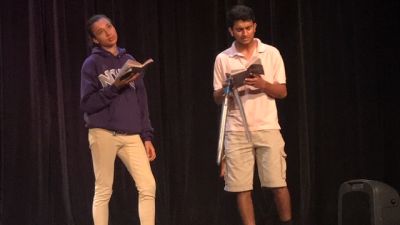 "Shakespeare's plays are beautifully written, but it's important to remember that they were written for the purpose of being performed," Brit Lit teacher Teresa Diehl shared this week.
Challenged to put together an informal showcase of their favorite Macbeth scenes, our students learned first hand what she meant, and were able to get a better understanding of the Bard's behind the scenes world as they quickly assembled a cast, crew and props for the stage.

With time afterward to reflect on the process of rehearsing, critiquing, and working with a director, students shared how the experience also helped them connect more with the characters and challenges within the text. Bravo!
 Not Just A History Lesson
It's not just a social studies lesson - third graders are also developing their environmental science, mapping, and writing skills this month as they learn more about V.I. history.
Plotting coordinates on a cut-out of St. Thomas kicked the unit off Friday, and as we head into break, both classes will also take a deep dive into the territory's natural resources and how we can protect them, and research local holidays. 
These lessons plant seeds that stretch across the curriculum and evolve in eighth grade to more hands-on experiences within the community, including field trips to local nature preserves and beaches, or to the halls of the Capitol Building in Charlotte Amalie for the annual Transfer Day ceremony.
This is the first time Antilles has earned a spot at the ISSA keelboat nationals and sailor Chris Sharpless '19 shared that this weekend's regatta, more than anything, hinges on how well the team can work together on the water. 
"Because this is a team race, it's not only about how skilled we are," Chris explained before he, Rayne Duff '21, Hobie James '21, Megan Cassidy '20, and coach Charlie Knape left Thursday for Florida. "It's about how well we can communicate, connect, and listen to one another when we're out there. This is where our bond will really be put to the test."
Safe travels to our team - and good luck!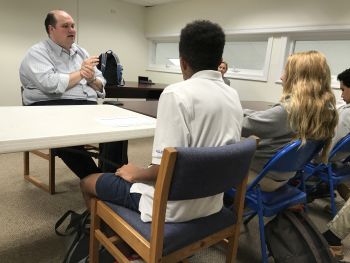 Advancement Director Ian Tacquard  talks to sophomores about his passion for fundraising and how that inspired a fullfilling career path.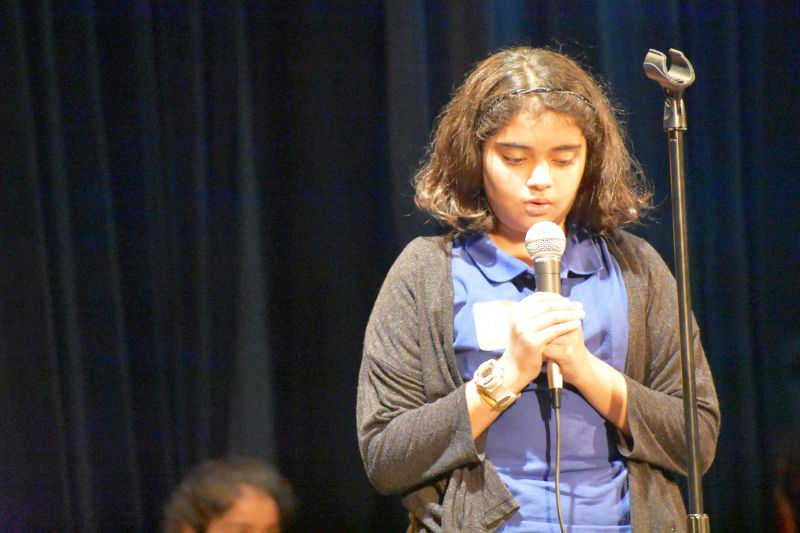 After 17 rounds, Priya Giyanani '23 celebrated her second consecutive school spelling bee win - and the chance to represent Antilles at the District competition.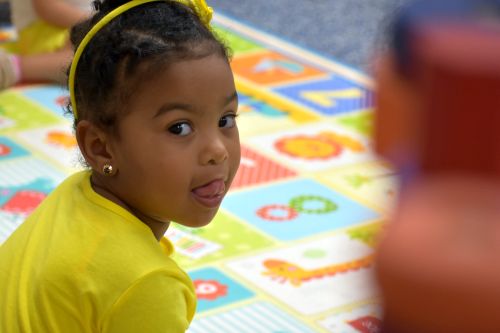 Amina Chugani '34 helps celebrate "yellow day" in the Toddler program.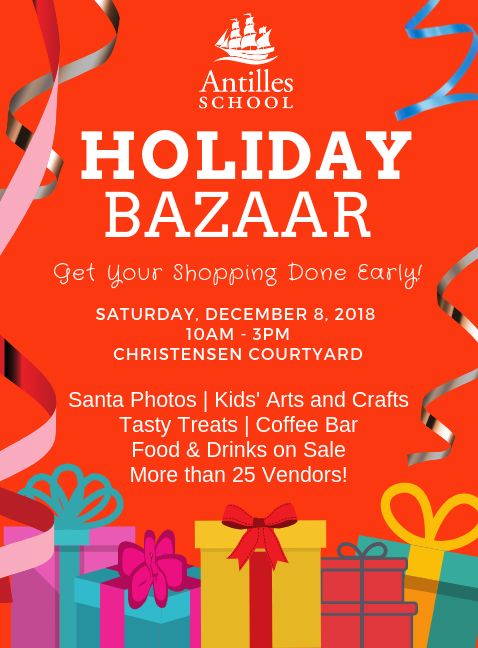 Get Involved | antilles.vi/calendar
Saturday, December 8
Sunday, December 9
National Keelboat Invitational | All day @St. Petersburg, Florida


Monday, December 10 (MS/US Day 6)
Tuesday, December 11 (MS/US Day 1)
Bake sale hosted by the Class of 2020 | after school @Christensen Courtyard

Girl Scouts meeting | 5:30PM @LS Art Room
Thursday, December 13 (MS/US Day 3)
Dress for a Cause sponsored by the Snorkel Club | all day,

MS/US

can wear blue

Musical performance by Ken Medema, K-2 | 9:50AM @LS Auditorium

The Forum Presents: National Theatre, King Lear | 7-9PM @PJ Hall
Friday, December 14 (MS/US Day 4)
All school holiday program