Antilles e-Newsletter for Parents | November 30
A Christmas Story | Tonight @7PM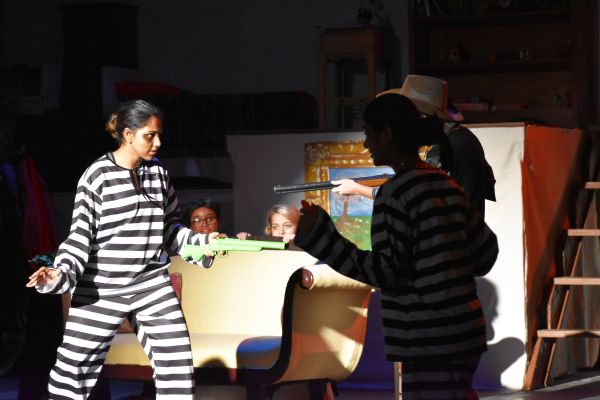 Join the talented cast and crew of "A Christmas Story" for tonight's opening at 7PM in the Prior Jollek Hall or the encore presentation on Saturday at 7PM. Tickets are $10 and can be purchased at the door.
Can't wait? Here's a sneak peak produced by our own Kevin Hughes '19 and Josh Crawford '22. (It'll also help you get in the mood for our Holiday Bazaar on Saturday, December 8 at 10AM in the Christensen Courtyard!)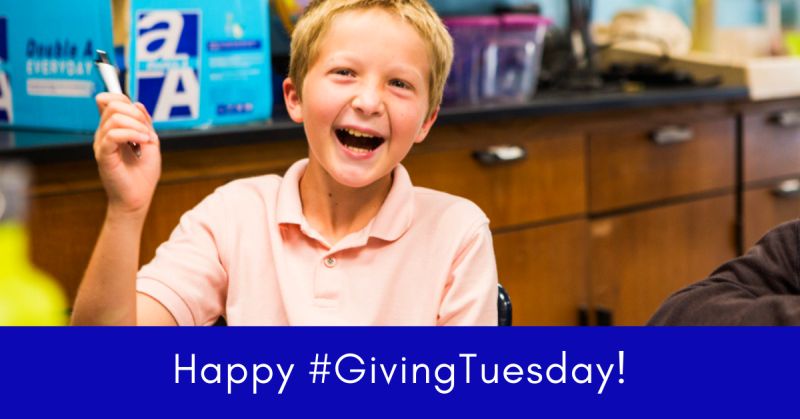 We're grateful to our faculty, students, alumni and their parents, grandparents, and friends of the School who showed us some love on #GivingTuesday and pushed us halfway toward our fundraising goal.
Your support allows us continue building Antilles back better and stronger - and inspires us to keep going! 
An update on the $10,000 parent match: currently, we've raised $4,730 for #GivingTuesday. Help us maximize our support to Antilles - if you're thinking of making an Annual Fund gift, now is the time to do it. Click here to double your impact!
Photo by: Mikki K. Harris
It's hard to describe yourself in four words, and even more to pick just one - but going through that exercise Monday gave faculty and staff a better understanding of how students process their own identities, and select which parts of themselves to share.
Professional development speaker Artur Glants said becoming better connected to our students helps us as adults see and value their experiences - including those that are different from our own. 
A group of our students are also exploring similar themes this week at the Student Diversity Leadership Conference in Nashville, Tennessee. Read more about their experience here - and thanks to Professional Development Director Shannon Harris for helping to provide the resources needed to enhance the conversation. 
V.I. native Jamori Blash shared with sophomores Wednesday his experiences growing up in public housing and raising a son while pursuing his dream of playing Major League Baseball.
His tip for top success? Do the "hokey pokey."
"I leaned in, set goals for myself, and turned my life around," Jamori, now a minor leaguer for the Washington Nationals, said. 
Read more about Jamori's visit to Antilles here - and if you've got an aspiring baller, join him at a free clinic on Saturday featuring an entire slate of the V.I.'s top talent.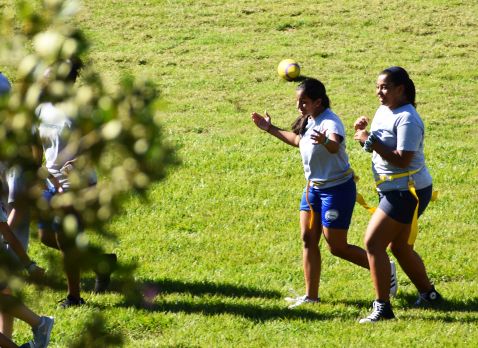 Anushka Chandiramani '22 and Aliya Danet '22 find another way to enjoy P.E. class and flag football on the field.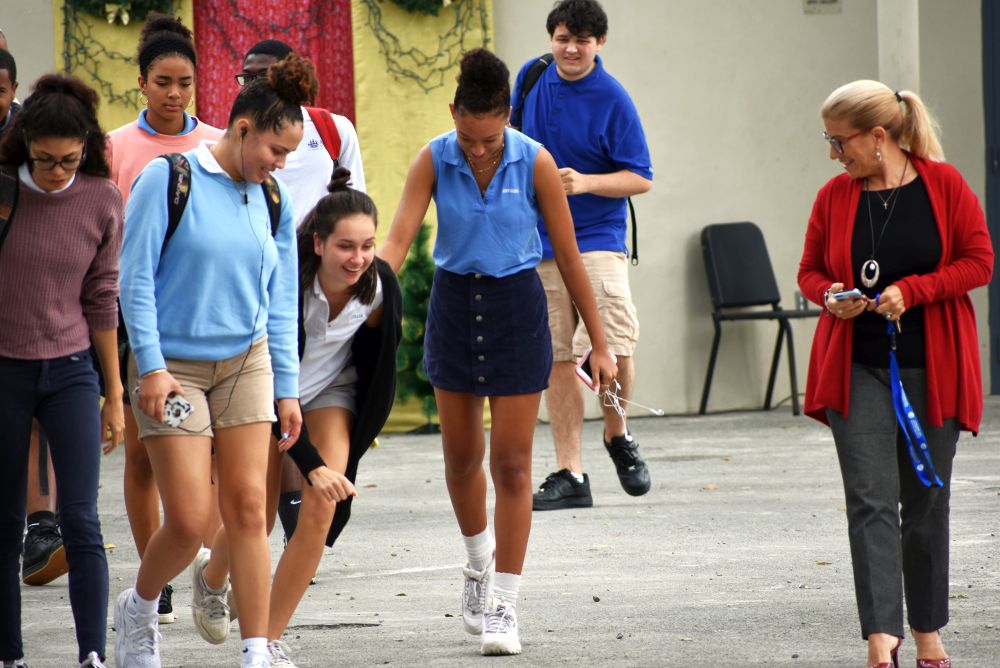 After leaving Friday's "A Christmas Story" preview, Abriel Lysiak '19 gets ready to dance to the holiday music emanating from PJ Hall.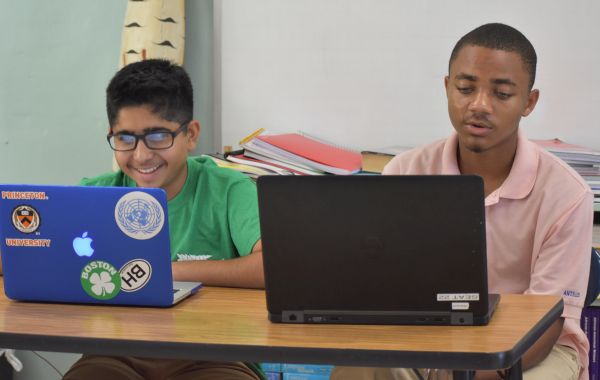 Mohit Mirpuri '21 can't stop smiling for the camera during Literature class, while Mitchell Turnbull '21 tries to concentrate the main points of "The Scarlet Letter."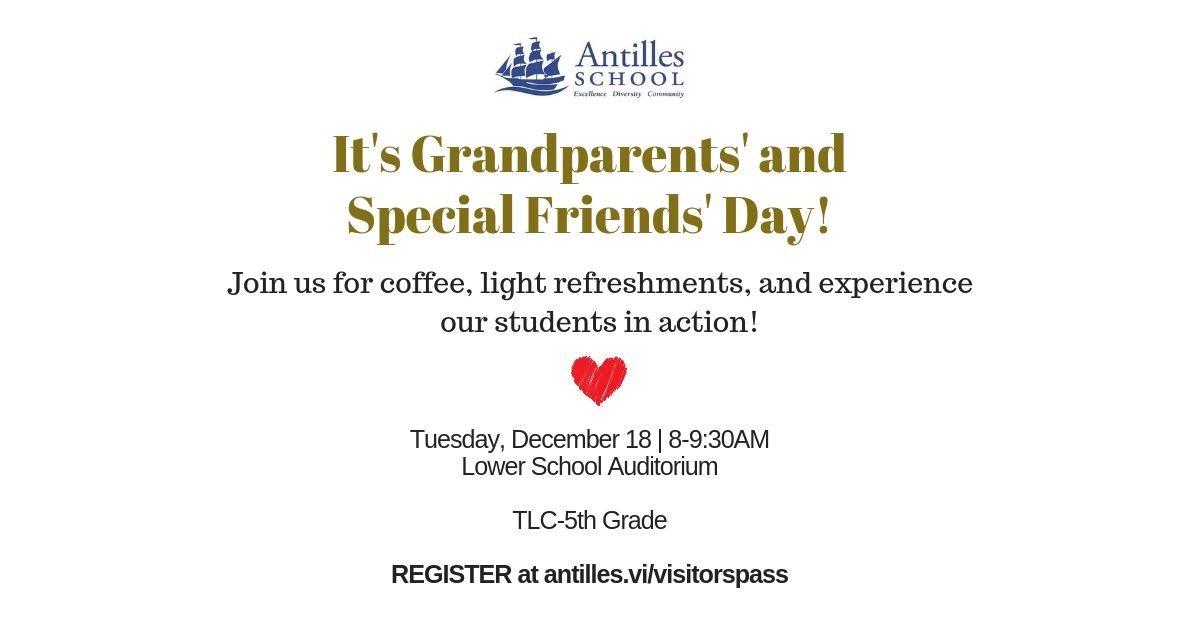 Get Involved Next Week | antilles.vi/calendar
Friday, November 30 (MS/US Day 6)
Saturday, December 1
A Christmas Story | Encore presentation, 7PM @PJ Hall


Monday, December 3 (MS/US Day 1)
Tuesday, December 4 (MS/US Day 2)
Intermediate spelling bee, grades 3-8 | 9-11AM @PJ Hall

Elementary girls basketball vs. All Saints | 5PM @Winton Raymo


Girl Scouts meeting | 5:30PM @LS Art Room

Tech Talk hosted by the PA | 6-7PM @Upper School Library


Wednesday, December 5 (MS/US Day 3)
Thursday, December 6 (MS/US Day 4)
Diwali performance, TLC-5th grade | 8AM @LS Auditorium

Lynn University visit | 11AM @College Counseling Office

The Forum Presents: MET Opera, Samson & Dalila | 7-9PM @PJ Hall
Friday, December 7 (MS/US Day 5)
Jersey day | Lower School, all day