Antilles e-Newsletter for Parents | October 5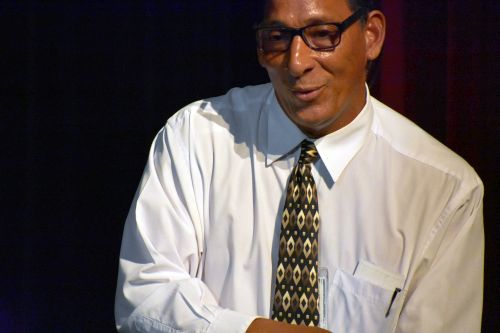 Puerto Ricans from Culebra and Vieques started migrating to St. Croix at the beginning of the 20th century to work on sugar plantations. Over time, they started families, opened businesses, and eventually, the two cultures began to blend, forming one larger community, explained Eduardo Carmona.
VI-Puerto Rico Friendship Day celebrates the bond between the two territories, and a greater story of acceptance, inclusion, and brotherly love. Our thanks to Mr. Carmona for helping to paint the the picture for our Middle and Upper students Friday, and for sharing his own memories of growing up in between. 
Click here for highlights from today's assembly and remember, school will be closed Monday in observance of the holiday.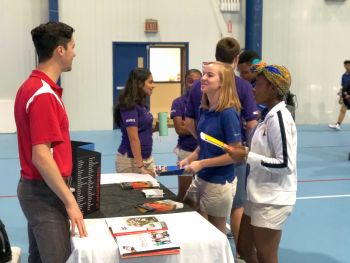 This week, juniors and seniors had the chance to experience a real college tour - without leaving campus.
Two fairs and an evening in with five powerhouse universities gave students and parents one-on-one time with visiting reps who offered a glimpse into their classrooms and shared stories about their faculty, tips on financial aid, feedback, answers, and some guidance on what they can do to make the application process easier.
Hosted by Antilles, these events were also open to the public and we were excited to welcome students and counselors from Gifft Hill School, Sts. Peter and Paul Cathedral School, Charlotte Amalie High School, and Ivanna Eudora Kean. 
"This whole exercise was democracy at its best," Heather Blum P'18, P'21, P'23 said after tallying the votes for Lower School Student Council officers. "Each candidate actually got a good amount of support, and in the end, the students voted for who they thought would make a positive difference in the Lower School. And that's exactly what we would want them to do."


Congratulations to all our fifth graders for having the courage to put themselves out there, for thinking about the needs of the Lower School, and for supporting one another on the campaign trail.

And, hats off to our new officers: President Vivian Morris '26, Vice President Mikko Griffith '26, Treasurer Dillen Webbe '26, and Secretary A'Maya Abraham '26. 
Our Upper School leaders offer you these words of wisdom.
New Faculty Spotlight: Jason A. Brown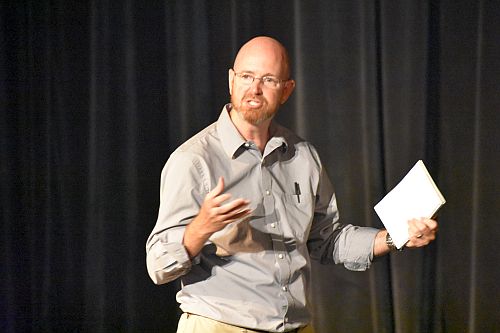 Our new Director of Upper School has hit the ground running these past few months, and he's just as excited about being at Antilles as we are to have him. 
Jason said that in searching for a new home -- he spent the last 18 years at Saint Andrew's School in Boca Raton, Florida -- he was looking for a school that met three "pre-qualifications." Being part of a close-knit community where students and parents know and take care of one another was at the top of the list, but equally important was working in an environment that values integrity and gives students a background in the liberal arts.
"From what I could see, Antilles has all that in spades," he noted. 
Welcome, Jason!
I scream, you scream, we all scream for ice cream! Thursday night's ice cream social was the perfect family night out! Thanks to our ELC teachers for all their hard work and to our parents for all their contributions! Click here for more images.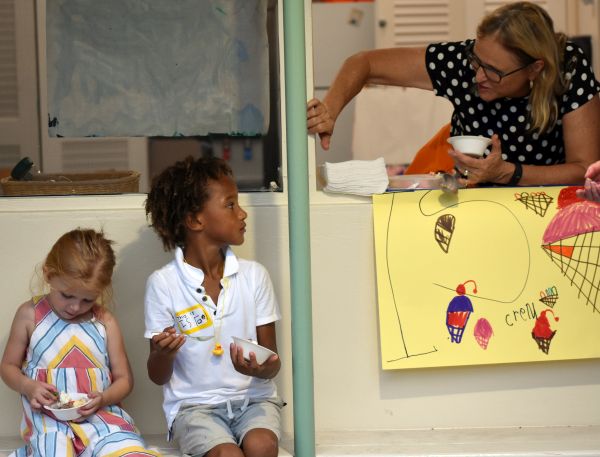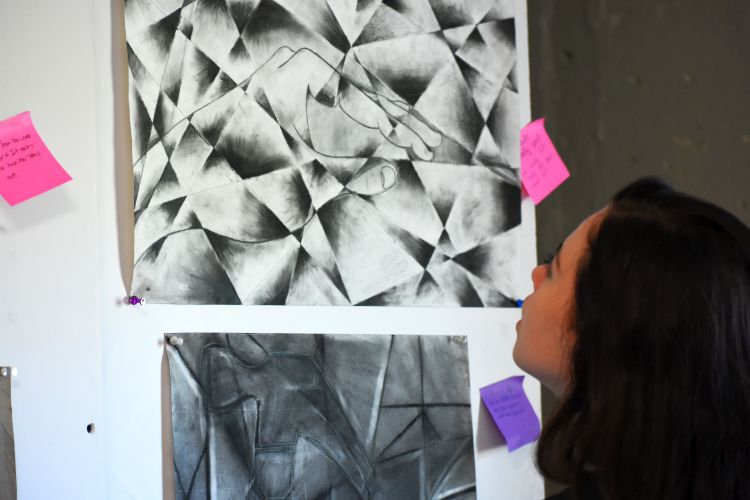 Upper School artists critiqued one another's large scale perspective drawings with positive comments left on Post-It notes. Students have read through the notes on their own time, and gotten a better understanding of how others are responding to their art. 
Lucy Sutfin '21 gets some quiet time in during flex period in the Upper School Library. Shout out to our students who continue to use the time to catch up with their teachers, work out strategies for extra help, or volunteer around campus.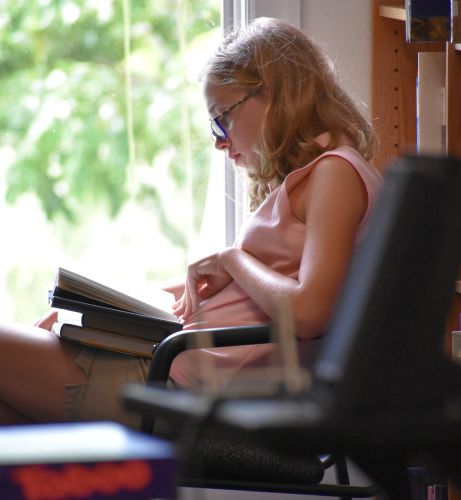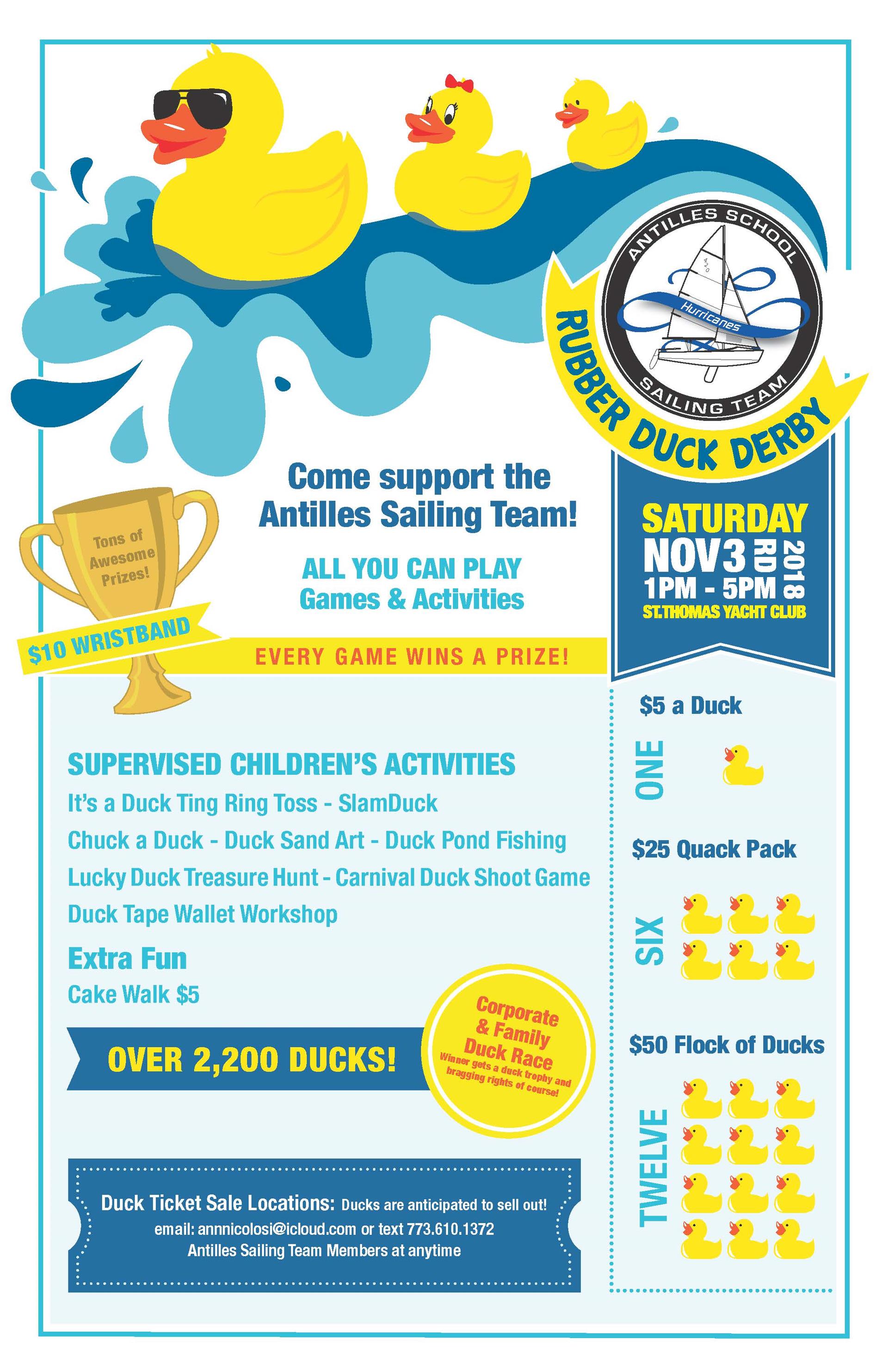 We expect to have 2,200 ducks on the starting line for the November 3rd Duck Derby, sponsored by the Antilles School Sailing Team. Mark your calendars and get ready for a fun day at the St. Thomas Yacht Club - proceeds will help our sailors on their their quest for an 8th National Championship title. Purchase your ducks online today, and include your name, company, and email address. Prices are $5 per duck, $25 for six, or $50 for a dozen. Grand prize is $1,000 cash. 




The Parent Association has officially launched its 3 For Me volunteer initiative and has a schedule of available opportunities, starting with Trunk or Treat on October 30. Let them know what you might be interested in by filling out this quick form. 

 

Registration is open for families interested in having a "trunk" at this year's Gate Night Trunk or Treat, a PA sponsored event. Sign up today if you plan to enter your car or donate your trunk!
 
Antilles is collecting Box Tops for Education! Check your home for any of these participating products, cut out the Box Top panels, and drop them off with Mrs. Aubain in the Main Office or your child's teacher. Each Box Top collected helps raise funds for the school!
Get Involved Next Week | antilles.vi/calendar
Sunday, October 8
Antilles Alumni Social | 5-7PM @La Tasca, Washington, D.C. Safe travels to the members of the Class of 2019 who are also attending this event!
Tuesday, October 9 (MS/US Day 4)
Friday, October 12 (MS/US Day 1)
Class of 2021 food sale | lunch @MKC Courtyard

JV volleyball tournament, boys and girls | 4-8PM @MCM Center

Theatre showcase | 6-7:30PM @PJ Hall
Saturday, October 13
Please note:
School will be closed on Monday, October 8 in observance of USVI-Puerto Rico Friendship Day