Antilles e-Newsletter for Parents | June 1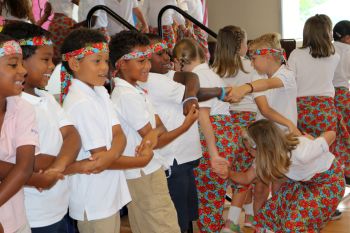 The first order of business for big brother Michael Caracciolo '17 after wrapping up his first full year of college? To see his little brother Shane '28 perform Thursday morning at the second grade's closing program.


"I loved that I knew all the words to the songs," Michael noted. "Seeing Shane on the stage reminded me what it was like to finish the school year at Antilles and to be excited for the summer."


T
hanks to Mrs. Verna Araujo for inspiring these fond memories of Antilles for generations of students, and a special welcome home to our alumni. We look forward to seeing you on campus throughout the summer!
You're Never Too Young...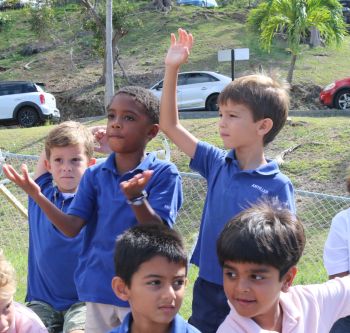 Spectating at the sixth grade's annual bottle rocket launch, Antilles' kindergarten classes were anxious to know what actually makes a rocket "go up," and Justin Wilson took the time to give them an easy intro into Newton's Three Laws of Motion. 
Putting the air and water inside the bottle under pressure creates force, and when that force is strong enough the rocket launches into the air, Justin instructed. 
To make the science experiential, the launch team of Colton Coffelt '24 and Dhruv Rhupani '24 noted that adding box fins and a "pointy nose cone" (clearly a technical term) is essential to a great flight. Check out these highlights to see if their theory is correct!
Finding the Beauty Inside
Much like the illustrations in the popular teen read Wonder, there are no eyes in the self-portrait Shainelle Bailey '25 chose to put on display at this week's Lower School Art Show. Nor is there a nose, or cheeks - but the words framing her face is all the fifth grader needs to describe who she is and why she's special.
"I'm kind, adventurous, loving and maybe a little bit crazy," she observed. "It doesn't matter what I look like on the outside. It's what's inside that counts, and the kind of person that I am. You can never judge a book by it's cover."
Thanks to Lower School art teacher Amanda Smith for engaging students in this empowering exercise, and for giving parents the chance to understand how our children see themselves, and their peers around them. What a Wonder-ful show!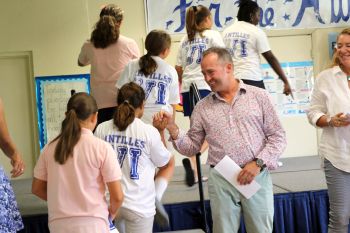 With wind-blown fields and flooded parks left in the wake of two devastating hurricanes, there was no telling where the territory's inter-scholastic athletics program would be this year. Thanks to the efforts of local sports officials, parents, and volunteers, however, Antilles was able to participate in full seasons of football, track, softball, volleyball, and soccer -and our elementary Hurricanes were honored Friday for their outstanding performances and sportsmanship.
We appreciate our athletic staff, coaches, parents, and students for jumping back in to make this year in school sports a great one. Go 'Canes!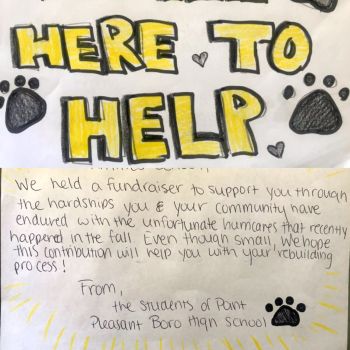 A special thank you this week to the students of Point Pleasant Boro High School in New Jersey for their thoughtful gift to Antilles and inspiring note - here are some others who have, throughout the year, also contributed.


We are grateful to the schools and students across the region and nation that raised funds for Antilles this year, and our rebuilding efforts. For whatever reason, great or small, you chose to make a difference and we are touched that you thought of us.
We appreciate you!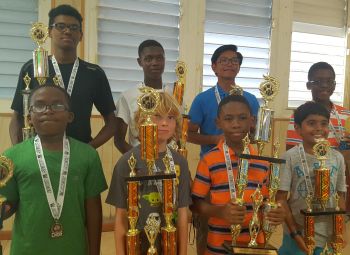 Congrats to our 2018-2019 PTA Board: President Rachel Prewitt, Vice-President Colleen Clendinen, Treasurer Aparna Nagpal, Secretary Nina Farvour, and Parent Coordinator Susan DeGraff!


With summer less than two weeks away, we know you're anxious to prepare for the upcoming school year. Here's a start - health packets for our TLC-Kindergarten students and 1st-12th graders are now online! Remember, forms must be dated 6/11/2018 and prior to 8/13/2018 in order to be valid for the entire 2018-2019 school year.
Our Antilles Girl Scouts Troupe recently celebrated their accomplishments for the year - and our Boy Scouts will be doing the same on Saturday, June 2, at a ceremony planned for 10AM in the Lower School Library. Parents of boys in the 4-6th grades are invited to attend, celebrate, and learn more about scouting opportunities for next year. 


Congratulations to Ajay Mirpuri '26 and Eli Blondeau '26 for their first place finishes at the St. Thomas-St. John Chess Association's final tournament of the year! The pair, along with Alessandro Gever '21 and Dillen Webbe '26, have been invited to participate with the rest of the winners at a special tournament in Florida in December 2018. 


In the mood for some good food? $15 gets you the some of the best BBQ on island - and the chance to help Antilles students in the St. Thomas Yacht Club's Opti sailing program - the feder to our own championship high school sailing team.  
Get Involved | Next Week at Antilles
Friday, June 1
6th Grade Rocket Launch @Antilles field | 1:25 – 3PM


10th grade American Literature movie | 3 – 5PM 


Elementary Soccer vs. Ulla Muller @Griffith | 4PM


NYC parent meeting for ITS trip @PJ Hall | 5 – 6PM


Elementary Soccer Game vs. Lockhart @Griffith | 5PM
Saturday, June 2
SAT Testing | 8AM - 12:30PM
Monday, June 4
Tuesday, June 5
Final Exams, Gr. 7-11


Snack Sales During Finals Girl Up | 10-10:30AM, 12:30-1PM


4th grade end of year celebration @PJ Hall | 2 – 3pm 


5th Grade Rehearsal @PJ Hall | 5 – 6pm 
Wednesday, June 6
Final Exams, Gr. 7-11


Snack Sales During Finals Girl Up | 10-10:30AM, 12:30-1PM


5th Grade Ceremony @PJ Hall | 11AM – 12:30PM 


Senior Class Lunch with Trustees | 11:30am – 1:30pm 


MS Closing Traditional Celebration @PJ Hall | 12:30 – 1:30PM
Thursday, June 7 


5

th Grade Boat Trip


Beach Day, TLC-5th Grade @Magens Bay Beach | 9AM – 12PM


Graduation Rehearsal @MCM Center | 9 – 11:30AM


Faculty Lunch w/Seniors @HKL2 | 12:30 – 1:30PM


Alumni Pinning Ceremony | 1:15 – 1:30PM


Festival de Canes @PJHall | 1:45 – 2:45PM


Hurricane Athlete Awards @PJ Hall | 6 – 7PM


Friday, June 8


US Closing Traditional Celebration @PJ Hall | 10AM – 12:30PM